Axie Infinity is currently taking the country by storm, with more and more Filipinos joining in looking to make serious bank. If you don't know what Axie Infinity is, we've written an extensive article talking about it already that you can check out here, but to quickly recap, Axie Infinity is a blockchain-based game inspired by Pokemon that rewards you with currency via its in-game economy that you can exchange for real money. The current Axie crypto setup allows for users to interact through a virtual ecosystem and receive tokens such as SLP and AXS as a form of rewards. Axie Infinity currently runs a play-to-earn business model that's quite popular as of late. In this article, we tackle Axie Infinity and how you cash in, and more importantly, cash out in the Philippines so you can reap the rewards of your efforts. 
Axie Infinity Philippines: How To Cash In
Prepare your Budget (at least Php 70,000 or $1,300)

Secure a Binance and Coins.ph account

Install Metamask and Ronin Wallet on your browser

Cash in Coins.ph

Convert Cash to XRP or ETH

Go to Binance 

Search in the coin pairs XRP/ETH

Sell XRP to get ETH conversion

Click on Withdraw in Binance

Paste Metamask address in the correct fields

Go to Axie account page and click "Bridge"

Click on Deposit to transfer assets from Metamask to Ronin Wallet
Axie Infinity Philippines: How To Cash Out
Go to Axie Infinity "Bridge"

Click on "Withdraw" and input your Metamask address

Click on the "Asset" button and select "SLP"

Confirm the transfer through Metamask

Go to Binance and click on "Fiat and Spot"

Press the "Deposit" button and Select "SLP"

Wait for the transaction to complete

Convert SLP to USDT 

Convert USDT to XRP

Deposit XRP to Coins.ph Account

Sell/Convert XRP in Coins.ph to PHP
First, you will need at least an ample budget of PHP 70000 to get started. After you have secured your budget, you may use Binance and Coins.ph to buy your Ethereum cryptocurrency, which you'll need to buy in-game currency and process transactions within the game. You will also need to download Metamask and Ronin Wallet to convert ETH to WETH. If you don't have it yet, make sure you have the wallet accounts above. The accounts above can be acquired through a browser extension from either Firefox or Google Chrome. Both will be needed so you can successfully convert your ETH to an actual Axie. 
Coins.ph is the easiest to use as you can use it with Binance unverified. Be sure to download these apps on your phone before you get started with buying your cryptocurrency.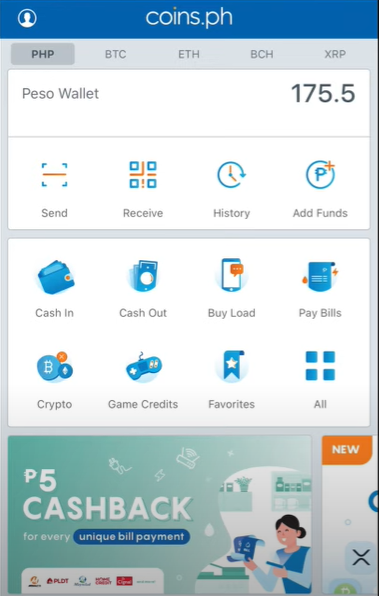 Unverified Binance Account
If you're unverified you may use the Coins.ph method. Cash in the appropriate amount of money in your Coins.ph account. Going a little bit above your budget margin can help with the cryptocurrency fees. To receive money on your unverified Binance account, you will need to convert your cash into XRP instead. Why XRP? Because when you convert to XRP the fees are much lower as compared to directly converting from ETH. If you have the budget, however, you can choose to directly convert your PHP to ETH. 
When converting make sure that your Coins.ph is converting from PHP to XRP. Check your interface twice to make sure that it's this exact configuration and be careful on what you tap on. The next step after converting your PHP to XRP is to send it over to your Binance account. Head over to your Binance account and go to your wallet. Click on Spot. If your receiver is Binance you will need to click on Deposit. Copy both your address and tag before anything else. Then paste it on your Coins.ph appropriate fields.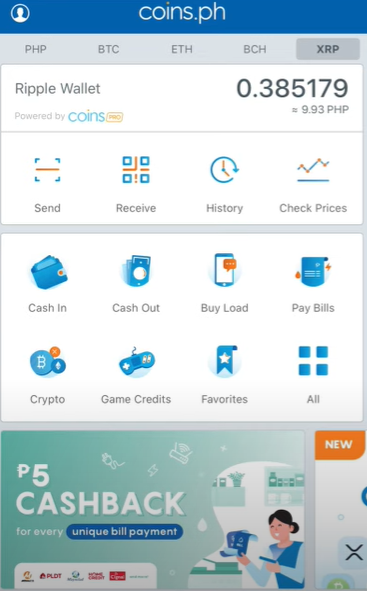 Put the amount you want to convert and slide to confirm your transaction. Binance will give you a notification if you've successfully sent and converted your cash to XRP. You will see the transaction within your Binance wallet. Now that you've received your XRP, it's time to convert it to ETH. ETH is what you will use to buy your own Axies. 
To convert your XRP to ETH, just go to the market in your Binance app and search in the coin pairs field "XRP/ETH". Simply press "Sell XRP" to get your ETH conversion. You will now withdraw your ETH to the appropriate Axie wallet. While you're in your Binance interface, paste the Metamask address in the correct fields. Make sure that the network being used is ERC20 as this is for Etherium. After everything is properly put in the correct fields, just click on withdraw to confirm the transaction. The amount you converted should appear in your Metamask Wallet. Go to your Axie account page and click "Bridge". Here you will convert your Metamask ETH to Ronin Wallet WETH. 
Verified Binance Account
For a verified Binance account, the steps above can be repeated if you're converting from Coins.ph. You may also directly buy ETH from Binance using your direct bank transfer, credit, or debit card. The direct route may be easier and faster. However, it might be a bit pricey because of the conversion fees. 
After converting to either XRP to ETH or directly from ETH, go to your wallet and look for ETH. Click withdraw. You can choose from a new address or a new address book. Input your Metamask address to get started. Wait for the conversion and then proceed to your Axie account page and go to "Bridge". Again, you will have to convert Metamask ETH to Ronin WETH. It's the same steps above.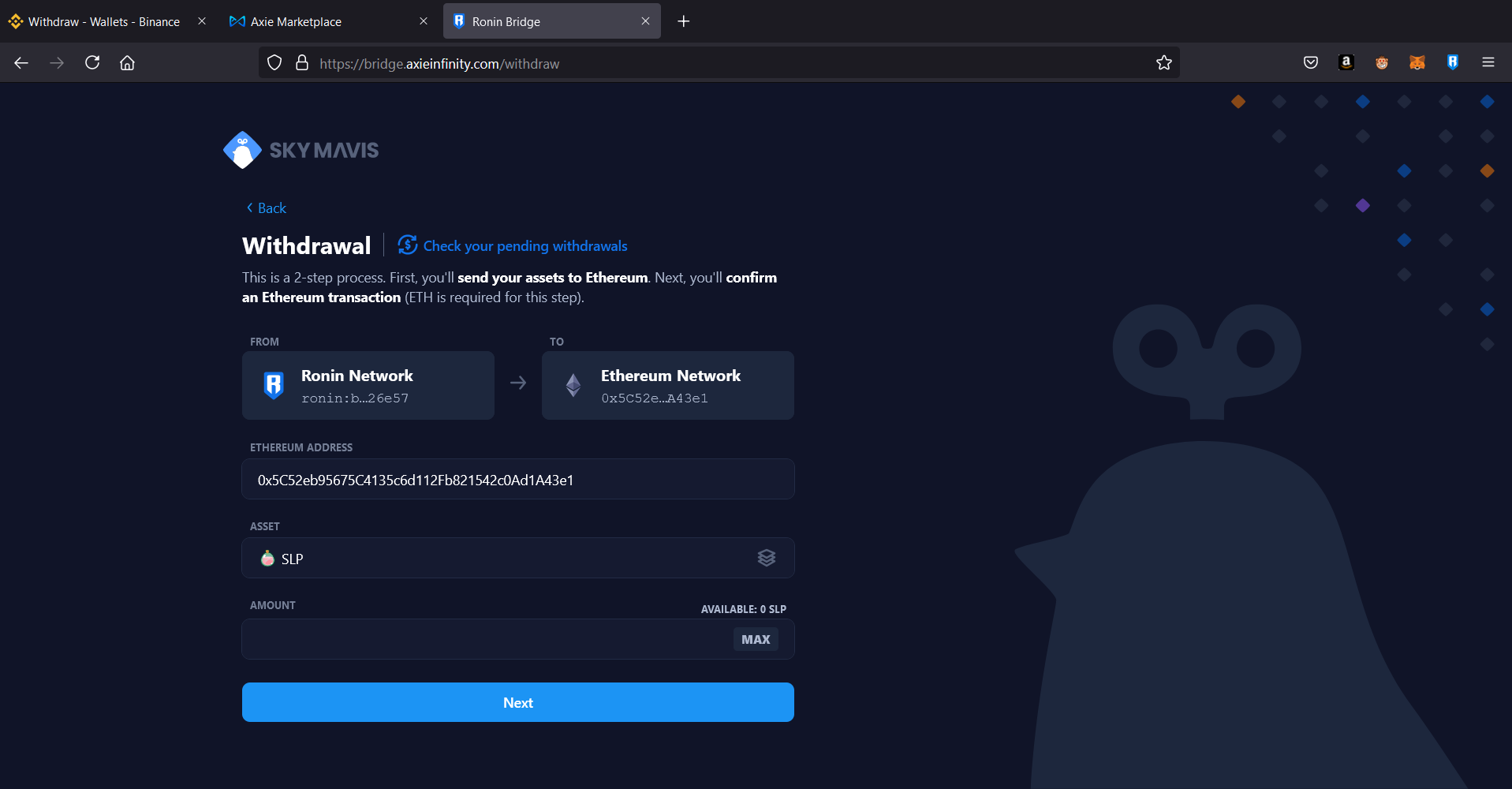 Now you've successfully cashed in for both verified and unverified Binance accounts. The question you have now is, how do you cash out successfully and safely? When playing, you will need a certain amount of SLP or Small Love Potion. That would be at least 1000 SLP for the best results. Collecting that much SLP will take around 15 days but it should go by pretty fast because you're playing a video game. The following methods will work even if you have an unverified Binance account. However, we do recommend getting your account verified for easier transactions during the cash-out process. 
The Axie infinity cash-out process requires you to click on "Bridge" again. Click on "Withdraw" and input your Metamask address. Always remember to double-check your Metamask address before doing anything else. Click on the "Asset" button and select "SLP". This will be the currency you use to cash out. Tap on confirm and wait for the transfer to your Metamask wallet. Ensure that you have extra funds as there will be excess fees when converting. Confirm the transfer through Metamask. Now you will have to move into Binance after the transaction is successfully completed.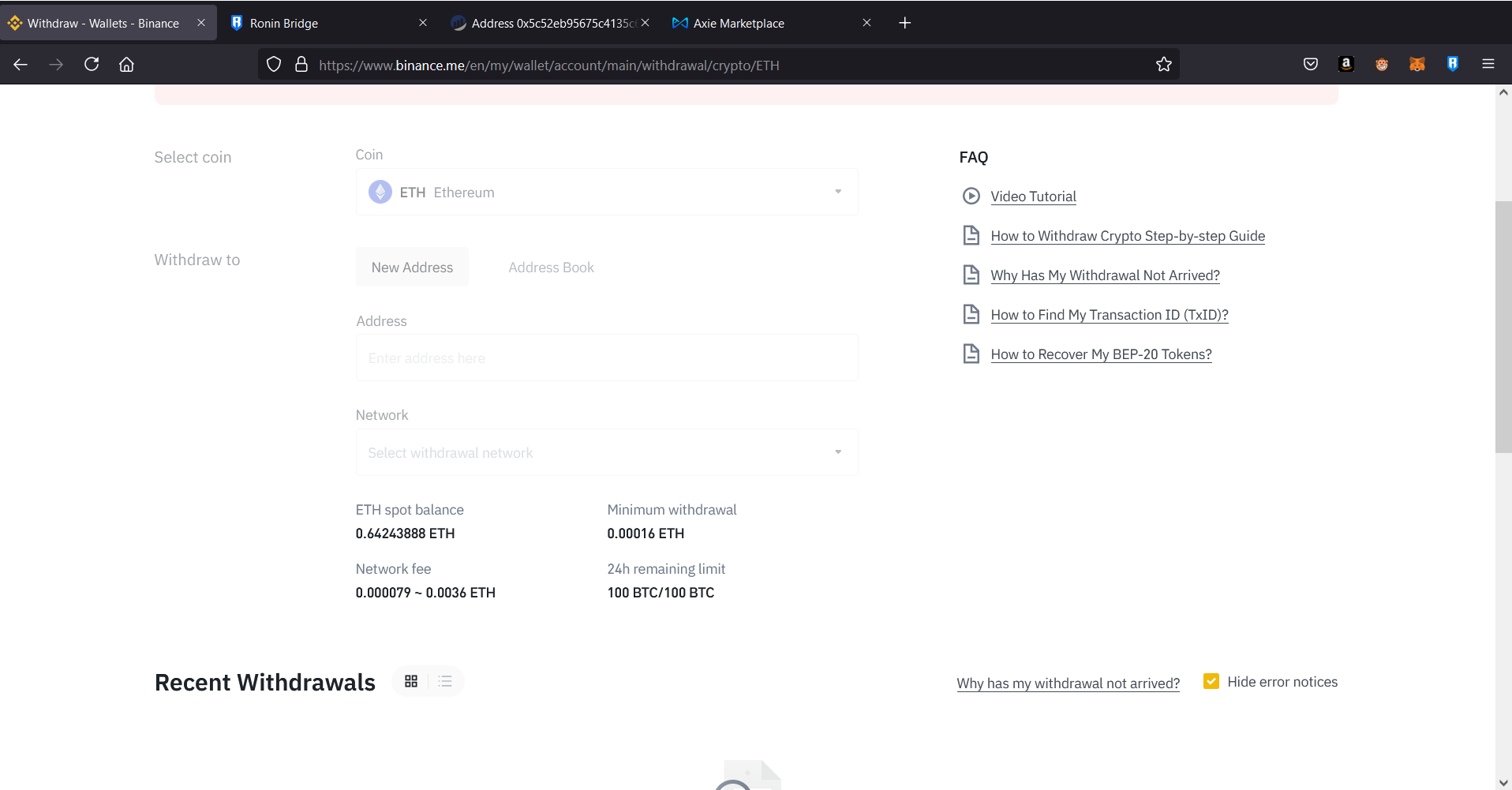 To convert, click on Fiat and Spot on Binance. Then press the "Deposit" button to get started. Select the coin you want to deposit, in this case, "Smooth Love Potion" or SLP. Make sure the network is ERC20. Binance will remind you if your input is correct or not. After the transaction is complete, it's time to convert the SLP to USDT. All you need to do is to sell your SLP/USDT. As long as you're selling within the market price margin, you will instantly gain the USDT conversion. After converting your SLP to USDT, the next step will be to convert USDT to XRP so you can deposit it in your Coins.ph account. Since you're using USDT, you will have to buy XRP from your USDT. Find XRP/USDT and input the amount you want to buy. Click on the "Buy XRP" button to begin your cash-out process.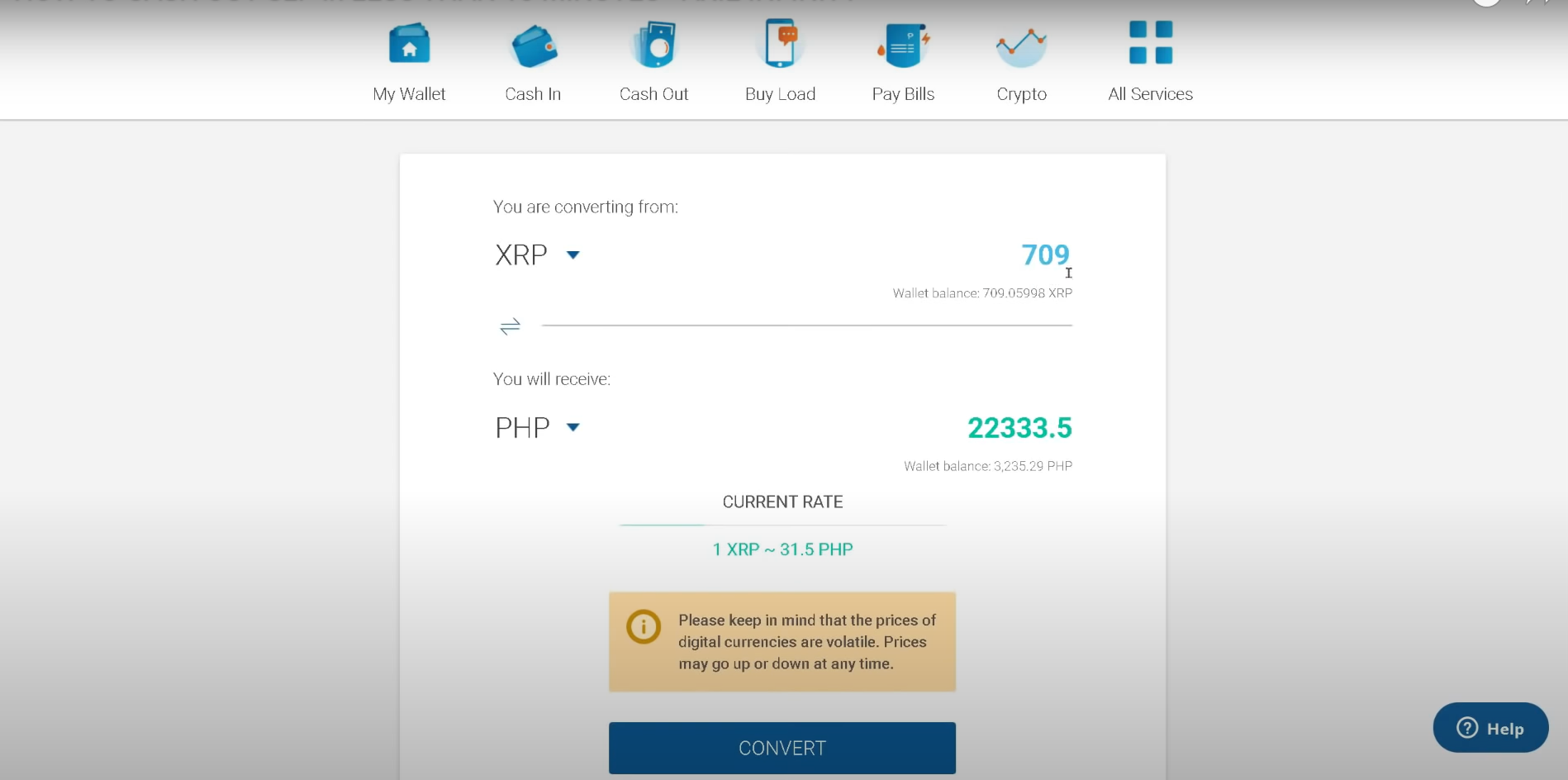 The last step to cash out is to send your XRP to Coins.ph. When you're at Coins.ph click on "XRP" then "Receive". You will be given a prompt to show your XRP wallet address from coins. Go back to Binance and go to Fiat and Spot. Tap on "Withdraw" and select "XRP" for your coin. Paste address from your Coins.ph account within the respective fields. After you've verified your email and phone number, all you need to do is wait for the XRP to appear on your Coins.ph wallet. The confirmation can also be seen on your Binance history. After you receive the XRP on Coins.ph, you may convert the XRP to cash. Click on the crypto menu on your Coins.ph app or page and tap on XRP, then Sell to begin converting the crypto to cash, and congratulations! You've successfully done an Axie Infinity Cash Out operation in the Philippines.