Huawei may be a household name thanks to their phones, but the company is looking to expand beyond its mobile roots – and may soon be in the house of the future. The Chinese juggernaut launched a whole slew of products last night for the Philippines that are laying the foundation for their push into IoT, and thanks to their investment in their 1+8+N strategy, they're in a strategic position to become the dominant force in your home. 
You've probably heard the whole 1+8+N spiel before from Huawei, and if you're like most people you may not know exactly what it is. It's essentially Huawei's strategy for the mobile era, with 1 being smartphones, 8 being external/peripheral devices (think headphones, wearables, cars, PCs, tablets, and more) and N being third-party devices and services connecting to the previous two layers.
The most important part of the whole 1+8+N strategy is Huawei's software ecosystem that runs through each layer that easily, intelligently, and seamlessly connects all three layers. In layman's terms, Huawei is making it ridiculously easy for customers to use their products like their smartphones, tablets, and displays to work together in ways that the products of their competitors can't, enough that you, the consumer, can hopefully see the value of going to an all-Huawei product ecosystem. 
And that's exactly what you're getting from Huawei's new device lineup. We've got a chance to take a look and test some of the devices that form the core of their 1+8+N strategy here in the Philippines. 
The core of Huawei's 1+8+N strategy is its phones, and this particular product launch has the Nova 8i standing front and center. The newest member of Huawei's mid-range smartphone family sports a massive 6.67-inch Edgeless display (94.7 screen-to-body ratio) as well as a 64-megapixel AI Quad Camera, 66W Super Charge capabilities, and a powerful Snapdragon 662 chipset. 
Like Huawei's other phones, the Nova 8i sports the company's EMUI OS and will be eligible for a HarmonyOS update in the future. EMUI allows the phone to take advantage of the other devices in the brand's device ecosystem quickly and easily and facilitates things like image and file sharing to Huawei's other monitors as well as its tablets and PCs a breeze. That's something that the competition can't match. 
Huawei's gorgeous 4K, 28.2-inch MateView monitor. This particular hi-resolution monitor is already a fine-looking IPS monitor on its own, but the value-add you get when you use it in conjunction with other Huawei products is undeniable here. For example, if you have a MateBook, you can very easily use the MateView as a second screen without needing to use wires. If you're dead-set on using a wired connection, you can opt to use a Type-C cable to connect the MateBook and the MateView – no need for a thick, ugly HDMI cable. 
If you're using a Huawei smartphone that has either EMUI or HarmonyOS on it, you can also simply tap the phone to the logo on the dock of the MateView to play the video on the monitor. Doing so also transfers audio to the MateView's louder speakers. 
This is incredibly useful when you're at the office or home when you're working – imagine simply transferring your screen to a bigger display when you have to open a spreadsheet or want to take a look at an expansive document in greater detail.
Speaking of laptops, did you know that you can get a laptop-like experience with just a tablet? Huawei's MatePad Pro 12.6 can make that happen thanks to HarmonyOS, which allows you to use it much like you'd use a traditional laptop. Thanks to an easy-to-use integrated keyboard and the M-Pencil, the MatePad Pro 12.6 is a compact workhorse that can easily handle whatever office task you throw at it. It gets access to all the apps you need via Huawei's app repository, AppGallery. And if you can't find the app you require on there, you can always hop on Petal Search to look for that particular app in a variety of sources online. 
While the MatePad Pro 12.6 performs well on its own, it becomes even better when you pair it with either the MateView or the MateView GT. The MatePad Pro can wirelessly project its image straight to the MateView, which allows you to quickly and easily move from a compact tablet when you're out and about to a big-screen experience when you're transferring to your home or office. Pair that tablet with a Bluetooth keyboard and mouse when you're using the MateView at home or the office, and you get a PC-like experience without the bulk of having a laptop.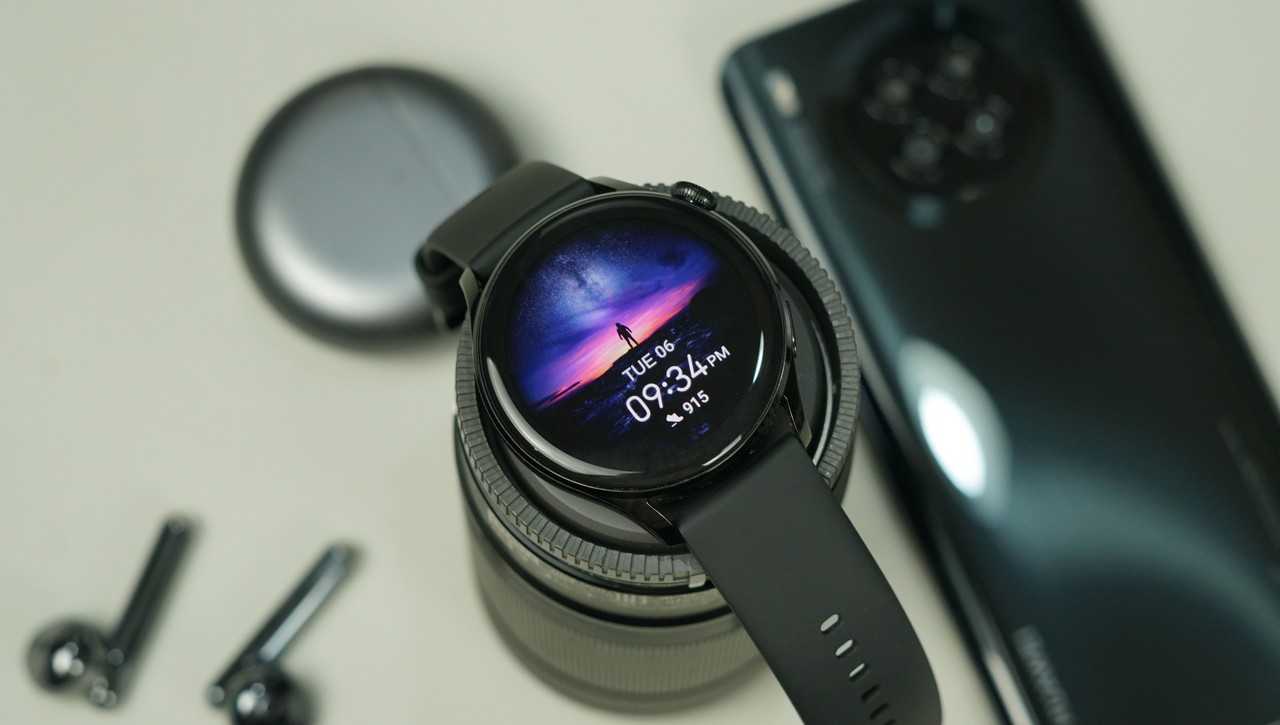 Huawei's interconnectivity for its devices doesn't end there – it even extends to otherwise "simple" products like wearables and headphones. Case in point: The Huawei Watch 3. The Watch 3 is Huawei's most advanced wearable yet, powered by their new HarmonyOS. Much like Huawei's other wearables, the Watch 3 sports incredible battery life, but it's significantly smarter, thanks to its new OS, as well as its full integration into Huawei's ecosystem via the Huawei Health app. You can take calls directly to the watch without the need for your phone by using its e-SIM tech, as well as control media and conduct MeeTime video calls with colleagues and loved ones. 
The Watch 3 can also be used as a hands-free tool via Huawei's voice assistant Celia when paired with a Huawei smartphone or tablet or laptop, and also supports Gesture commands to make it easier for you to multi-task. This helps a lot when you're at the office or home multi-tasking. 
The Huawei Freebuds 4 also takes advantage of Huawei's extensive software ecosystem. You'll be able to quickly customize the touch controls via Huawei's AI Life app to better enjoy the Freebuds 4's high-resolution audio. If you're using a Huawei phone like the Nova 8i or a tablet like the MatePad Pro 12.6, simply opening the case near them will quickly and easily pair it with them without having to go through your phone's settings. 
The FreeBuds 4 also can connect to two devices at the same time (including the Watch 3), and you can freely switch from one device to another depending on your needs. That means you can switch to your work PC after finishing a  MeeTime call with your parents on your phone with a simple tap – no need to mess around with the settings on either device. 
All of those features are on top of an already awesome pair of TWS buds, which sport open fit active noise-cancellation (ANC) tech, high-resolution sound, incredibly intuitive touch controls, and excellent air-like fit when you're wearing it. 
While other companies make smartphones, watches, monitors, and PCs, Huawei is probably one of the few that can make all of those products play well together. The company's efforts in integrating not just smartphones but monitors, laptops, and even wearables like watches and earbuds are unmatched, and anyone looking for a fully-fleshed out software and hardware ecosystem to invest in needs to take a look at Huawei's robust product portfolio. 
 Pricing for the different devices are as follows:
FreeBuds 4 – Php 7,999

Watch 3  – Php 18,999

MatePad Pro 12.6 – Php 55,999

MateView – TBA