Quick Review Verdict: The realme C35, we found out during our review time in the Philippines, is a solid back-to-basics smartphone packing a Full HD display, decently powerful processor, 50-megapixel camera, and side-mounted fingerprint scanner mounted onto its slim and light frame. We're pleased to see the return of both the microSD card slot and 3.5mm headphone jack, two features some of us still deem to weigh heavily into our smartphone purchase decision. 
Pros
Has both a 3.5mm headphone jack and expandable storage
The display resolution has been bumped to 1080p
Acceptable processor and camera performance
Cons
The battery is smaller than the brand's cheaper models
The Waterdrop notch design is getting old
realme C35 Specs
Unisoc Tiger 616 processor
4GB LPDDR4X RAM
64GB/128GB internal storage
6.6-inch Full HD+ IPS display, 180hz touch sampling
50-megapixel f/1.8 main camera with PDAF, 2-megapixel f/2.4 macro camera, 2-megapixel f/2.4 mono camera
8-megapixel f/2.0 selfie camera
4G, LTE
WiFi, Bluetooth 5.0, side-mounted fingerprint scanner
5000mAh battery
18w fast charging
Android 11, realme UI 2.0
Design
Looking at the front of the realme C35 makes you realize that it's nothing you haven't seen before. There are minimal black bezels enveloping the display up front, with a waterdrop notch sheltering the selfie shooter. This is a tried-and-tested design that just works ergonomically, despite the fact that it's been rinsed and repeated a million times by now. As the saying goes, "if it ain't broke don't fix it!"
The rear grabs a little bit more attention. It comes in a teal-ish color that looks cool and is easy on the eyes. Once again, it's nothing revolutionary but it helps the device look elegant yet understated. At the top resides a camera module featuring a minimalist triple-lens setup (with flash) that we'll get into more later. Overall, the aesthetic is clean and inoffensive. The only other thing of note at the smartphone's behind is the realme branding.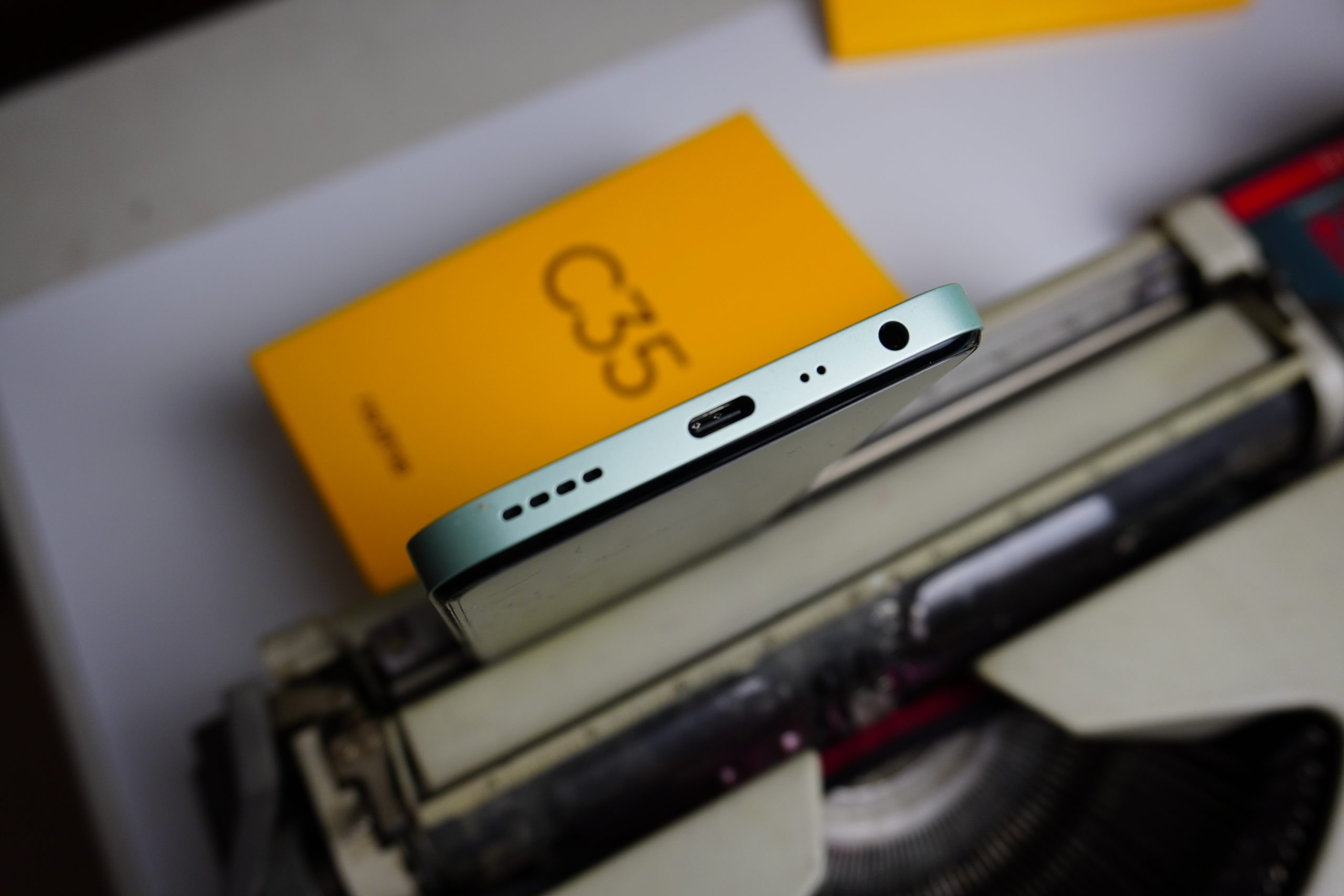 Important functions such as the SIM/microSD card tray, volume rockers, bottom-firing speaker, microphones, audio jack, and others can be situated at multiple points across the device's slim 8.1mm chassis.
Display
The decision to go with IPS technology on the 6.6-inch display was a good one. This is only trumped by the decision to bump up the resolution to Full HD, which makes a world of difference when it comes to viewing content. There are claims that resolution doesn't matter as much on a smartphone display as it would on, let's say, a tablet – but the individual pixels are definitely more noticeable at 720p than 1080p. It is likely that this screen will consume more power than the one found on the lower-range realme C25, which surprisingly has a higher battery capacity than this device at 6,000 mAh (vs. 5,000 mAh). The C25 only has an HD display though.
We'd say that the screen here gets bright enough and color reproduction is on the better side of things. The only thing missing is the higher refresh rate but it's a sacrifice we're willing to make at the probable price point.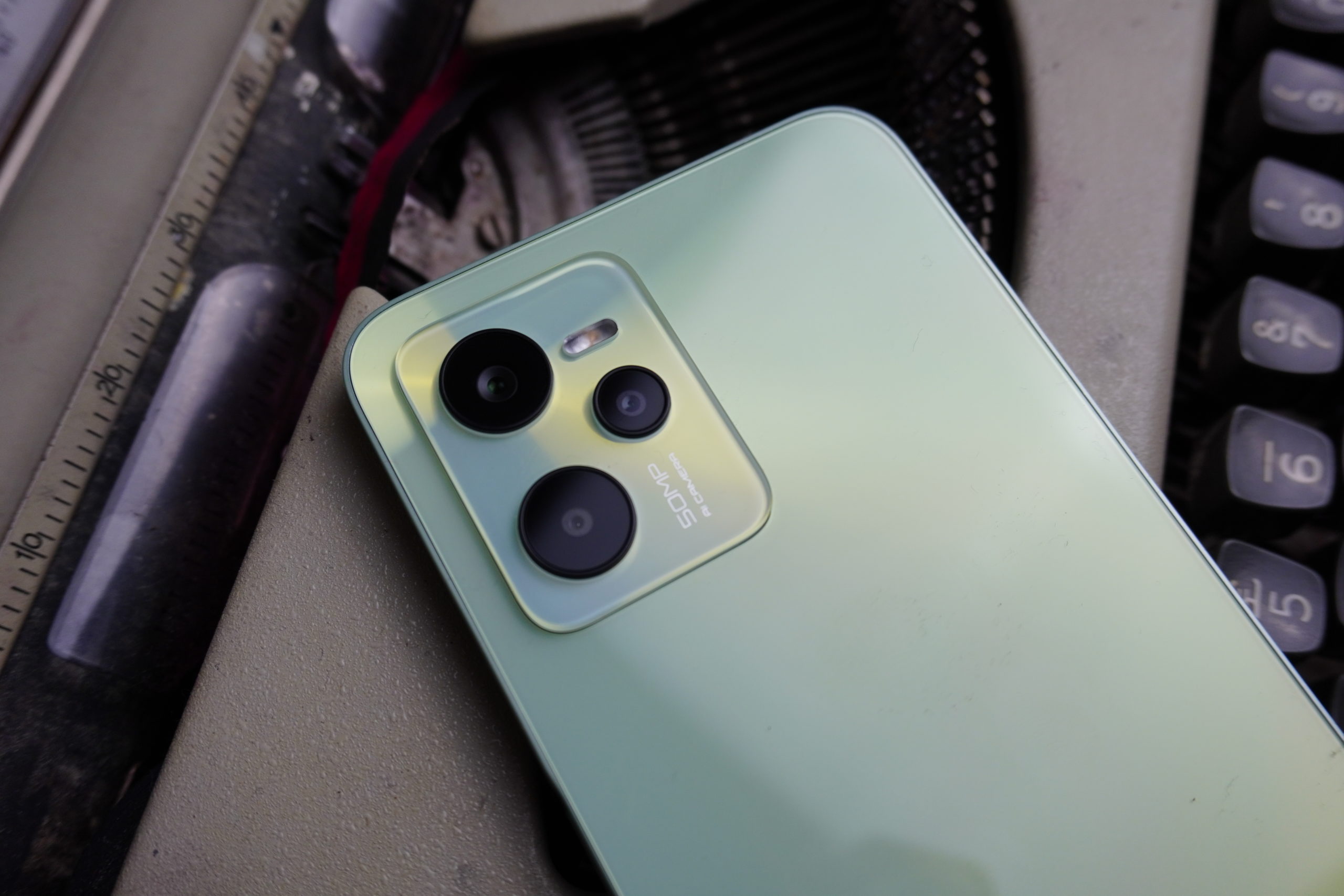 Cameras
The camera module found at the rear contains the 50-megapixel main camera, grouped together with 2-megapixel macro and mono sensors. In 2022, we've learned enough by now that megapixel counts don't necessarily translate to image quality; factors such as software processing and others still hold relevant weight.
In our testing, landscape shots did much better than portraits focused on a singular subject. Ideal lighting conditions posed no problems for the sensors, but take away light or some other element, and the sharpening/processing starts to kick in quite significantly. It is noticeable but nothing too bothersome for social media posting.
Most cameras have issues with oversaturating shots but the realme C35 takes a bit of the color away and is biased towards blander hues. That sounds like a characteristic of professional equipment. However, this is easily editable and leads to a raw experience you don't usually find within the segment.
At the front, hidden within the notch is an 8-megapixel sensor. It shoots with average detail in bright light, while the cons remain the same as the rear camera's as we mentioned earlier.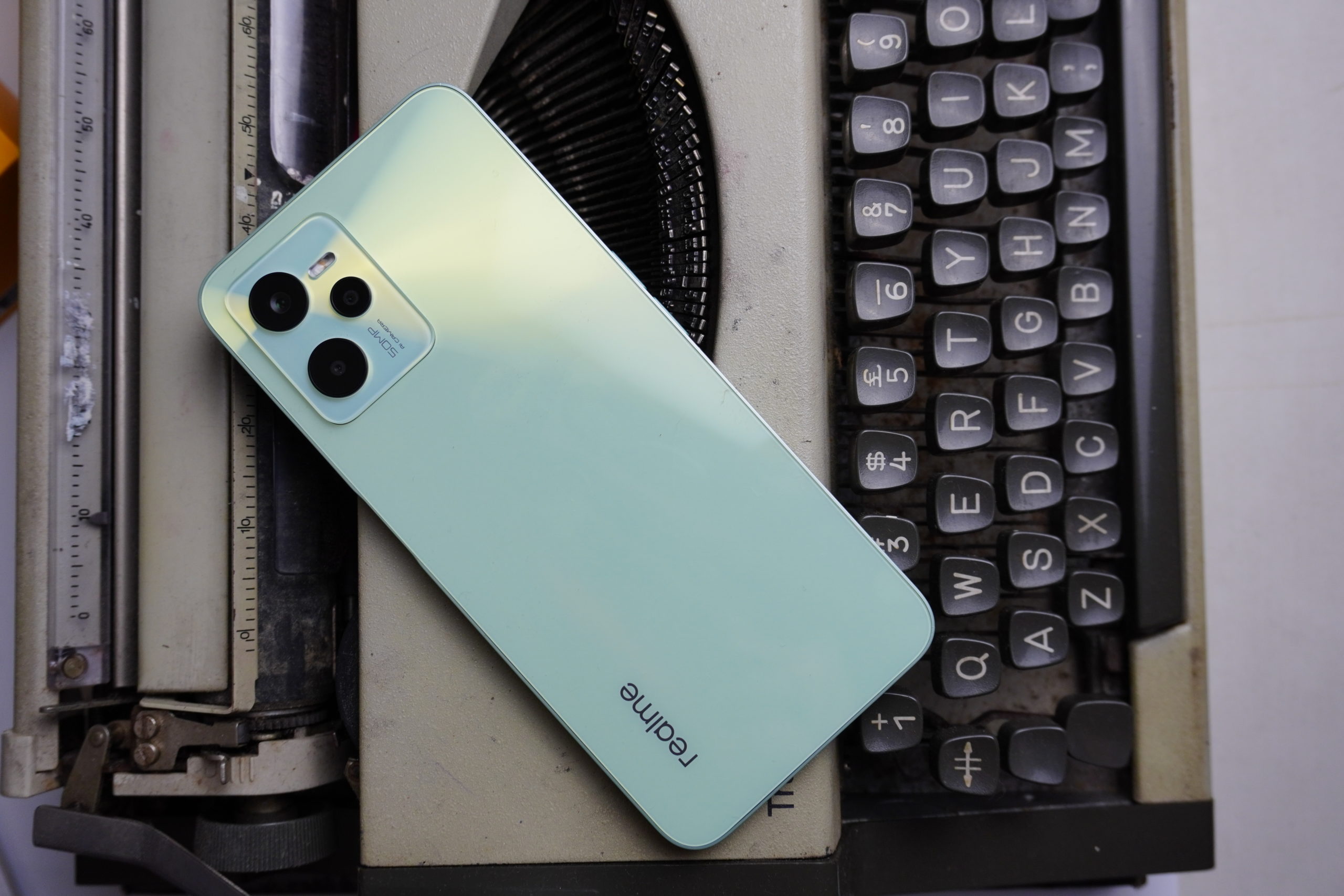 Internals
Onboard is the Unisoc Tiger 616 (T616) processor, an entry-level octa-core chipset. So far in our usage, it hasn't caused any significant lags or crashes. That alone is more than good enough for casual users in 2022. It's backed up by 4GB of LPDDR4X RAM, which is a healthy amount for some multitasking. This phone's internals shouldn't tap out with the demands of everyday life unless you're an extreme power user.
Storage on the device comes in 64 and 128GB variants. If you find these insufficient, a microSD card slot adds up to a substantial 1TB of memory which should promise some sort of longevity on the file-keeping end. As mentioned previously, a 5,000 mAh battery powers this smartphone, which is 1,000 mAh less than its younger sibling realme C25 with a lower-resolution 720p screen. We were undeniably impressed with the latter's staying power on one charge, so we'll lower our expectations a bit but we don't expect to be disappointed. 18W quick charging makes itself available for a speedy top up.
We'll perform some benchmarks in our thorough performance tests, as well as continue everyday use. The metrics should be out in the full review to follow.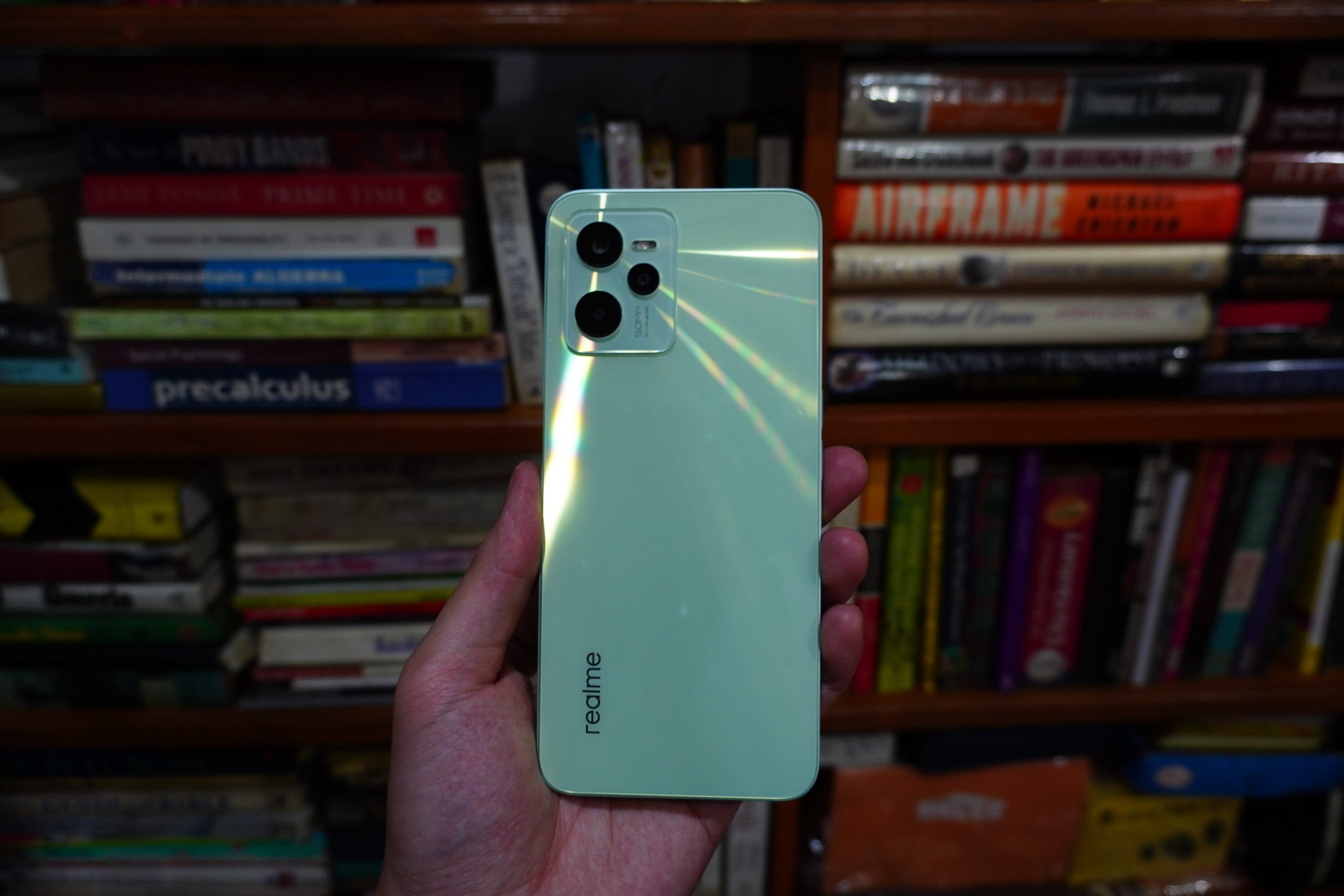 realme C35 Quick Review Philippines Wrap Up and Initial Verdict
The realme C35 is currently performing satisfactorily in our review time, making it a definite option in the Philippines. We've yet to delve deeper into the device's unique quirks whether positive or negative – but we like what we're seeing on the surface. It has a high-resolution display that outputs colors well, internals that can handle most tasks, a usable camera for a quick snapshot, and everything in between. It even manages to possess not only one but TWO ports (microSD, 3.5mm) that others consider antiquated but are still extremely useful.
It gets all the basics right and sometimes that's all a person really needs.
realme C35 Review Philippines Price
The realme C35 will be available in two colors: Glowing Black and Glowing Green as you see here. The 4/64GB variant retails for PHP 8,499 while the 4/128GB variant is priced at PHP 9,499.
Special promos include a reduction of price to PHP 6,888 and PHP 7,888 for the 64/128GB models respectively on the @realmePH TikTok Shop Philippines this May 18 (3PM-8PM). Other time-limited discounts are also available on e-commerce platforms such as Shopee and Lazada.