CES 2022 saw a lot of interesting releases that pushed the envelope on technology we originally perceived we could only see in our favorite sci-fi movies. In the field of desktops, the MSI Project: Evangelion drew our attention with its striking colors and nostalgic theme. This goes a step beyond that though. Say hello to the CyberPower Kinetic Series PC Case – a device that like it comes from the Transformers franchise.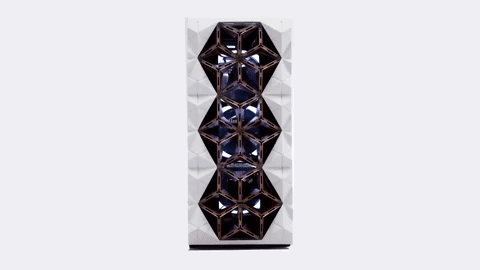 Photos courtesy of CyberPower and Tom's Guide
The CyberPower Kinetic PC case is shaped much like any other, but its party trick is right in front. There is a 3D pattern composed of various triangles, forming prisms. While they definitely do the job of catching the eye, they're actually functional – 18 individually controlled vents to be specific, according to Games Radar. These open up to provide the PC with airflow in high load situations, but can also be adjusted or closed totally if not deemed necessary.
Adjustments can be automatically set once a certain temperature range has been achieved. This makes it a hassle-free experience and keeps dust away from the PC internals as well as limits noise when it's not in heavy use.
Heat has always been the enemy of processing power, due to energy expenditure. Cooling solutions have always been conventional, with some liquid-cooling technologies finding themselves in the mainstream as of late. This is without a doubt a unique approach to the perennial issue. Let's just see if it actually works.
A TECHAERIS report claims that the case has a suggested retail price of $249. We'll keep you posted on news regarding local distribution.