Do you remember the original Angry Birds game, AKA the game that popularized the battle between birds and pigs–where the latter attacks the former to save their eggs? Developer Rovio debuted the game in 2009, and has since spanned a huge franchise that includes several Angry Birds spin-off games. The OG game was renamed Rovio Classics: Angry Birds in 2022, and it seems that Rovio is delisting the classic game from the Google Play Store.
In its post on Twitter, Rovio explained that they are delisting Rovio Classics: Angry Birds in Google Play Store effective February 23 "due to the game's impact on our wider games portfolio." That does make sense since the Angry Birds franchise has evolved into new titles like Angry Birds 2, Angry Birds Dream Blast, Angry Birds Friends, Angry Birds Journey, Angry Birds Reloaded, and Angry Birds Minecraft.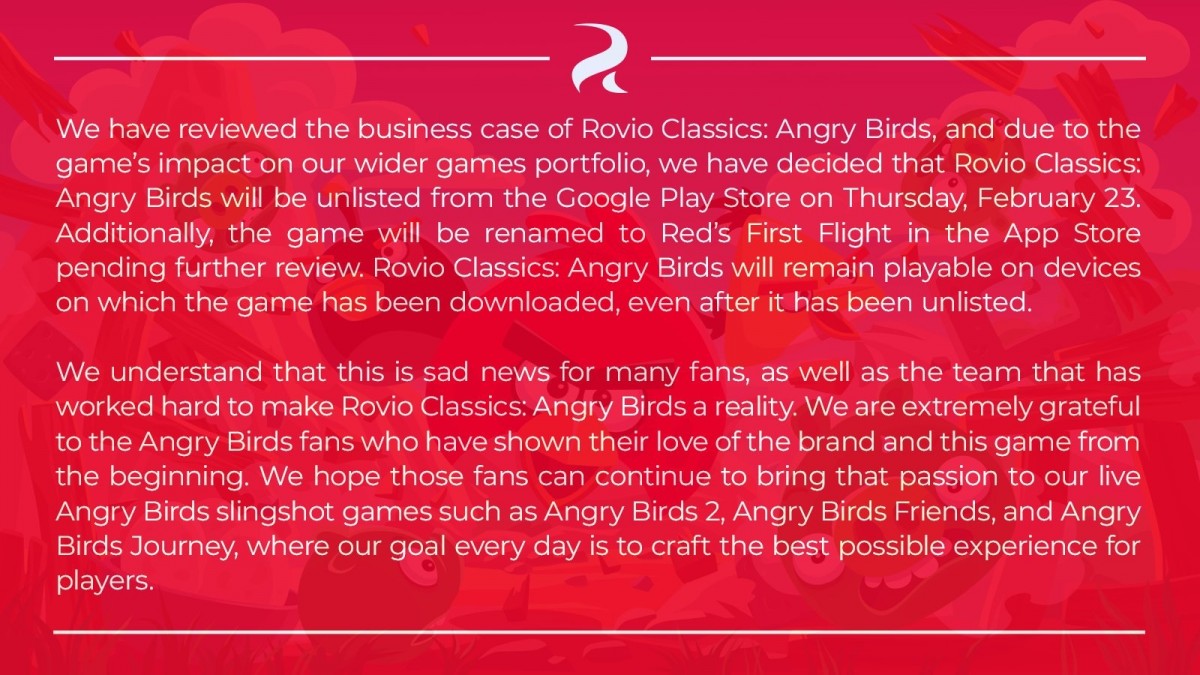 What's interesting about their announcement is that they are technically not delisting the OG game at the Apple App Store. Instead, Rovio Classics: Angry Birds will be renamed to Red's First Flight "pending further review". We don't know why Rovio is delisting the OG Angry Birds game at just the Google Play Store, but nonetheless, they said that the game "will remain playable on devices on which the game has been downloaded."
In short, if you have Php 69 to spare and really love the original gameplay of Angry Birds, we highly recommend you buy it and download it to your Android device ASAP before it gets delisted on the Play Store for good. Again, we can't guarantee that it will come back as Red's First Flight like in the case with Apple App Store.