At some point in time a decade ago, tablets were considered the in-thing. The Apple iPad was growing ever-popular, and giants like Samsung and Google were throwing in their own gauntlets with the Tab S and Nexus lineups, respectively. However, people soon came to a realization: as smartphones grew larger, tablets began to lose their edge due to the lack of software optimization and apps that took advantage of their distinct size. They just became oversized smartphones. Well, recent years have seen manufacturers develop more for this form factor that has caused a resurgence in the market. 2022 has seen tablet sales in the Philippines balloon by a significant margin compared to the previous annum. We'll go into it here.
When playing the numbers game, the International Data Corporation (IDC)'s Quarterly Personal Computing Device Tracker is a reliable source of information. After all, it is a study on the worldwide level with a set focus, coverage, and sound methodology.
Results from this study show that tablet sales in the Philippines grew by 34.3% in the first quarter of 2022, as compared to 2021's. They have inferred that this is due to brands stretching out their current product ranges to include at least 1 tablet, while some who only had 1 offering before have now added more to fit a multitude of price brackets.
IDC Philippines Market Analyst Angela Medez had this to say: "While slowing procurements for tablets in Education posed a 23.9% decline in 1Q22 compared to last year, this segment outperformed expectations and is anticipated to continue to drive the commercial segment for the rest of the year despite the election ban period."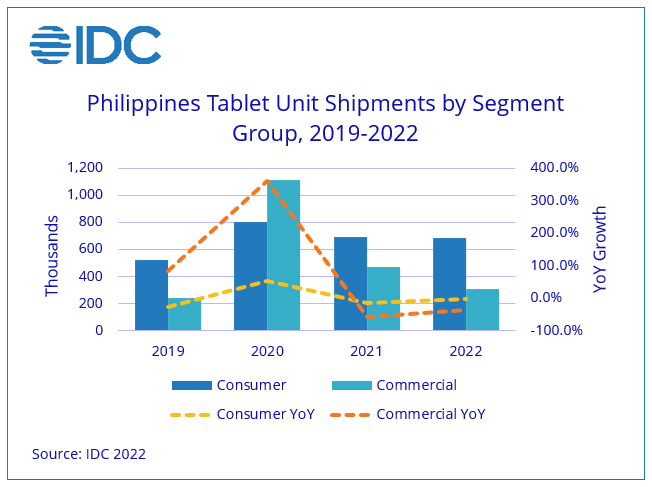 Based on this IDC graph, we can see that sales spiked when the pandemic struck. We can hypothesize that this is because tablets became one of the default options for online conferences, meetings, and schooling, especially for those who did not have these devices in the past.
Despite a sharp decline in 2021, numbers were still greater than their pre-pandemic counterparts. The question now is how long the upward trend from 2021 to 2022 will continue, and what factors besides an increase in supply will contribute.
The top 5 brands for tablet sales in the Philippines, meanwhile, are the following:
Samsung (24.3% market share)
realme (22.6% market share)
Cherry Mobile (18.3% market share)
Huawei (12.4% market share)
Xiaomi (7.1% market share)
Samsung experienced a sharp YoY growth of 86.9%, only followed by Huawei's 68.0%. realme and Xiaomi did not experience significant YoY growth while Cherry Mobile fell by 33%, despite its third-place position. Other brands dipped by 42.5%.
Will any of these brands swap places or even be replaced in the years to come? Will there be a sharp decline in demand once most households have bought at least one tablet? We'll have to see how these play out. Only time will tell.