In the race for 4nm chips, Qualcomm finally has their own 4nm-based flagship chip with the Snapdragon 8 Gen1. As their answer to MediaTek's Dimensity 9000, you also get a 4nm process (made by Samsung and not by TSMC like the Dimensity 9000) and a tri-cluster structure that consists of a Cortex-X2 prime core, three Cortex-A710 performance cores, and four Cortex-A510 efficiency cores. Compared to the Dimensity 9000, the Snapdragon 8 Gen 1's cores run at a lower clock speed: 3Ghz for the prime core, 2.5Ghz for the performance cores, and 1.8Ghz for the efficiency cores. Compared to the Snapdragon 888, the Snapdragon 8 Gen 1 claims to be 20% more powerful and 30% more power-efficient.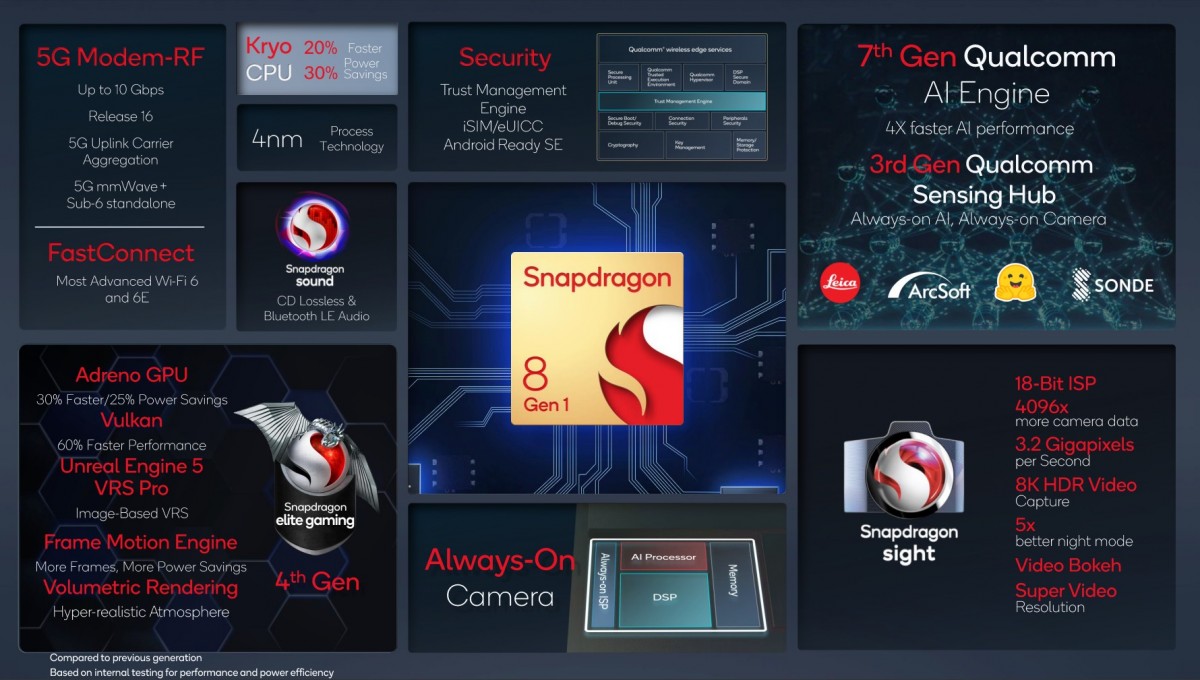 Moving to the upgrades inside the Snapdragon 8 Gen 1, its next-generation Adreno GPU ( there's no official name yet) claims to deliver a 30% performance boost and up to 25% better power efficiency while introducing some new features. The Adreno Frame Motion Engine allows the GPU to render games at double the FPS while using the same amount of power, and keep FPS the same while slashing power draw by half.
Aside from improved FPS management, the next-generation Adreno GPU has support for desktop-class volumetric rendering and Variable Rate Shading Pro–both aiming to deliver the best possible graphics into games.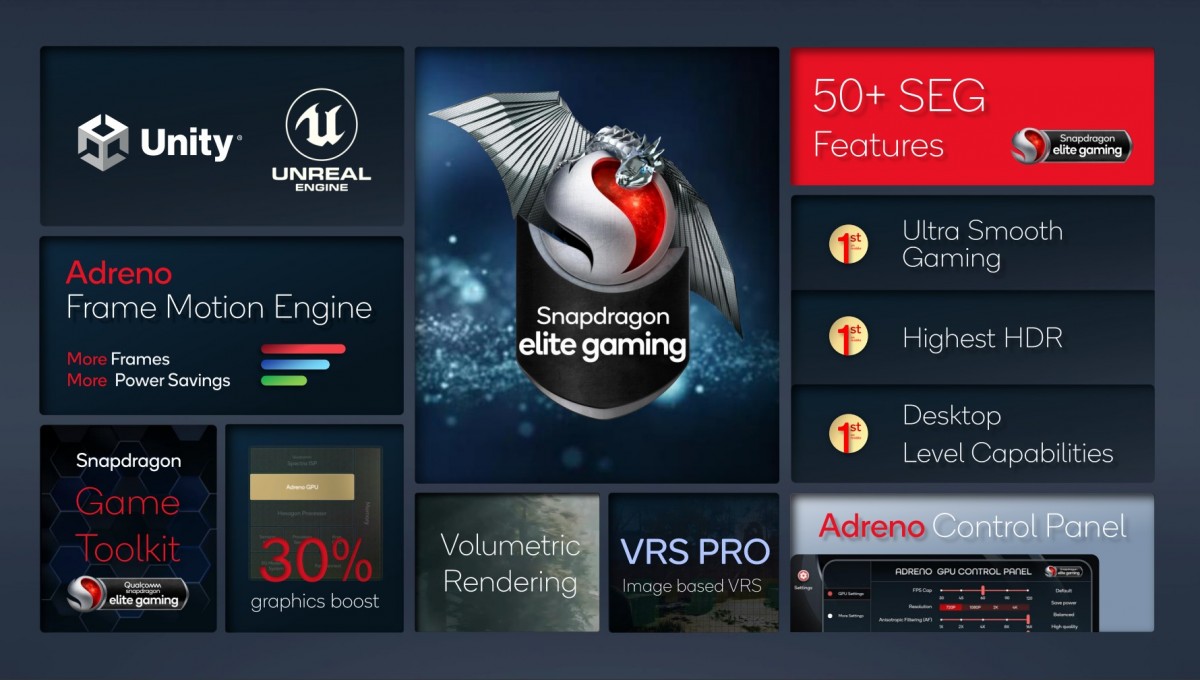 Also new with the Snapdragon 8 Gen 1 is its X65 5G modem, which supports both sub-6ghz and mmWave frequencies and allows for peak speeds at up to 10Gbps. There's also support for WiFi 6 and 6E, CD Lossless Audio over Bluetooth LE, and aptX Lossless.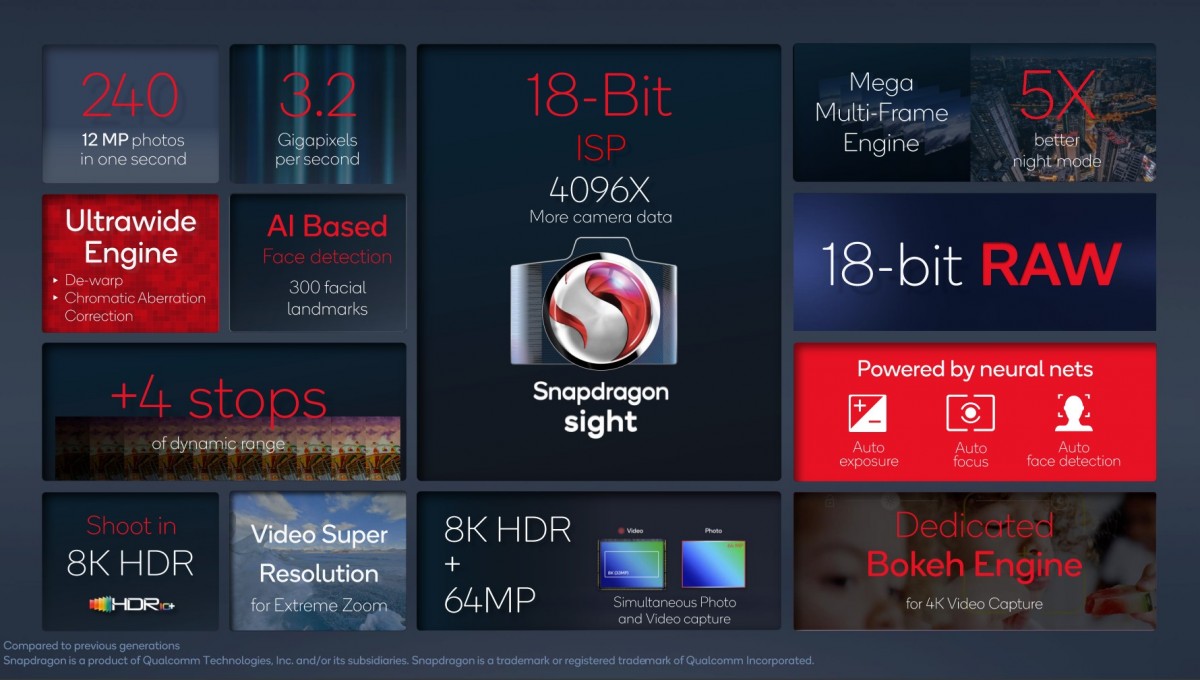 Another key upgrade to Qualcomm's new flagship SoC is Snapdragon Sight, which now works at 18 bits per channel (vs 14 bits per channel) for higher dynamic range overhead and better HDR handling. The new ISP can now export uncompressed 18-bit RAW for editing, and can capture 108-megapixel photos at 30 frames per second (or three 36-megapixel photos at 30 frames per second).
Snapdragon Sight is so powerful that it can process 3.2 gigapixel per second, which should let the Snapdragon 8 Gen 1 capture 240 12-megapixel photos per second. That's double of ehat the Snapdragon 888 can do. In addition to that, Snapdragon Sight now lets you shoot 8K30 video with HDR capture (both HDR10 and HDR10+), have EIS, and snap 64-megapixel photos while recording video.
Qualcomm also partnered with Leica for software, enabling the use of filters inspired by classic Leica lenses, along with a dedicated ending for ultra-wide-angle cameras. Other new dedicated engines include Mega Multi-Frame Engine for better night mode performance and Video Super Resolution for improved quality of digital zooms.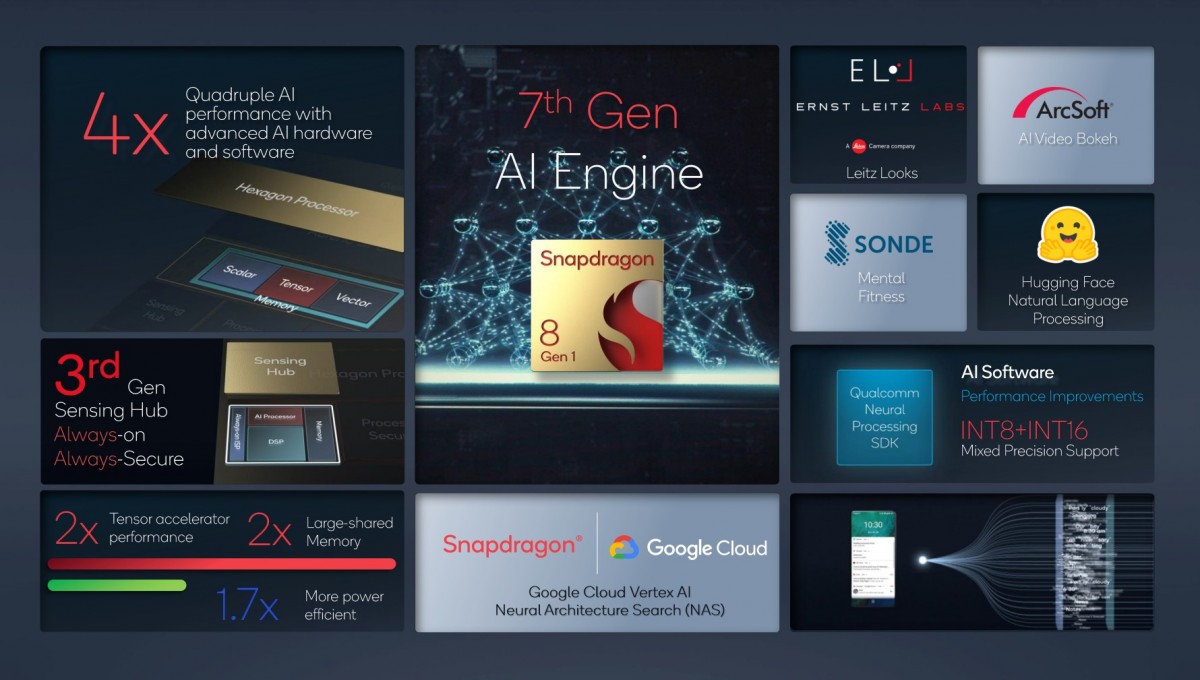 On the AI side of things, the 7th-gen AI engine can now track 300 facial landmarks for improved face detection and an always-on camera feature that enables new face unlock modes and new privacy features. On top of this, Qualcomm claims that the Snapdragon 8 Gen 1 can do up to 4x the AI work at up to 70% better power efficiency compared to the Snapdragon 888.
Qualcomm said that the first phones to use its new processor will launch by the end of the year. Among the first brands to do so are the realme GT 2 Pro and Motorola Edge X30/Edge 30 Ultra.