PLDT, through its subsidiary Smart Communications, Inc. is beefing up its network infrastructure by using a new breed of cellular towers. The company is now rolling out new towers made from IsoTruss Carbon Fiber, which will allow them to erect infrastructure in places that are usually too fragile to accommodate a traditional tower.
These IsoTruss Carbon Fiber cell sites are notable for being over 10x lighter than steel towers. They are expected to be light enough for installation on buildings while remaining compliant with the National Building Code. Thanks to its lightweight nature, they're easier to install and transport compared to traditional towers.
Furthermore, this new material help reduces both PLDT and Smart's impact on the environment. According to Meinardo Opiana, Head of Transport Network & Support Facilities Planning & Engineering at Smart, the manufacturing process of these towers emits up to 70 percent less carbon dioxide, compared with the steel of comparable strength.
Thanks to the inherent strength of carbon fiber which the towers are made of, they're also more resistant to strong winds, important in a country that's regularly visited by tropical typhoons. IsoTruss carbon fiber's non-corrosive nature also means it requires almost no maintenance making them ideal for coastal municipalities where typhoons are common. Its lightweight material also reduces the potential hazards of structural overload for rooftop towers that are already burdened by huge antennas and new tech rollout.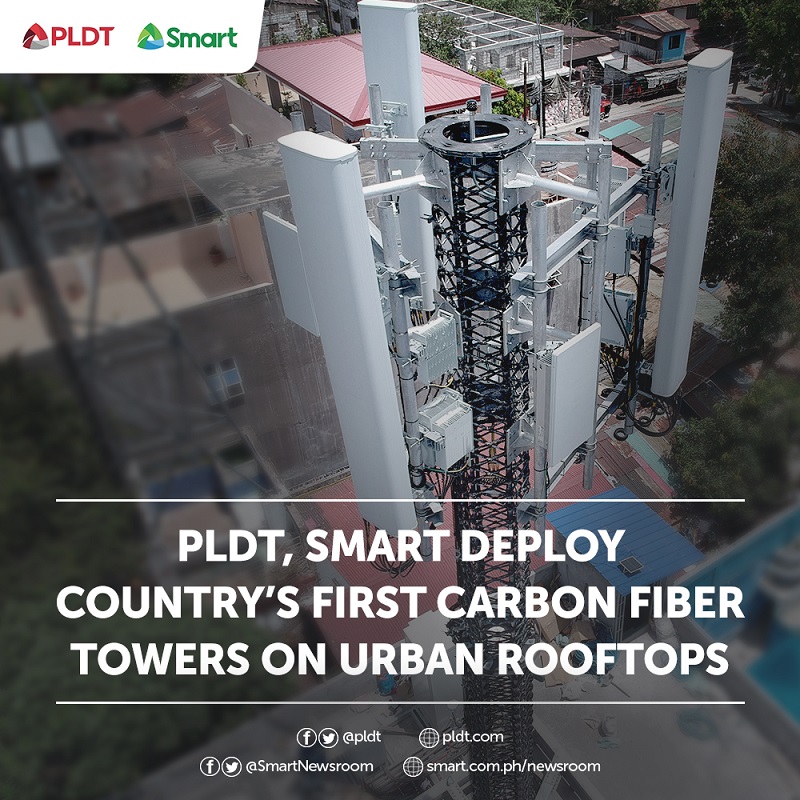 "The deployment of carbon fiber towers will support our LTE and 5G rollout, especially in metro areas where the demand for LTE network expansion and new 5G rollouts require lighter tower solutions that can carry equipment to serve at full capacity," said Mario G. Tamayo, SVP and Head of Technology at PLDT and Smart.
This carbon fiber tower rollout is part of PLDT and Smart's nationwide network expansion program. Smart's mobile network currently covers 96% of the population from Batanes to Tawi-Tawi.