Review Verdict: Foldables are bleeding into the mainstream, and the OPPO Find N2 Flip in this review is another competitor that brings life to the space. We think this could be the best iteration of the "flip" form factor yet, with almost no compromises to accompany its attractive points. 
Pros
Extremely pocketable
Screen when unfolded isn't too narrow
Awesome camera functions
OS has improved greatly
Cons
Outside screen can still be optimized a bit more
One-handed use is very limited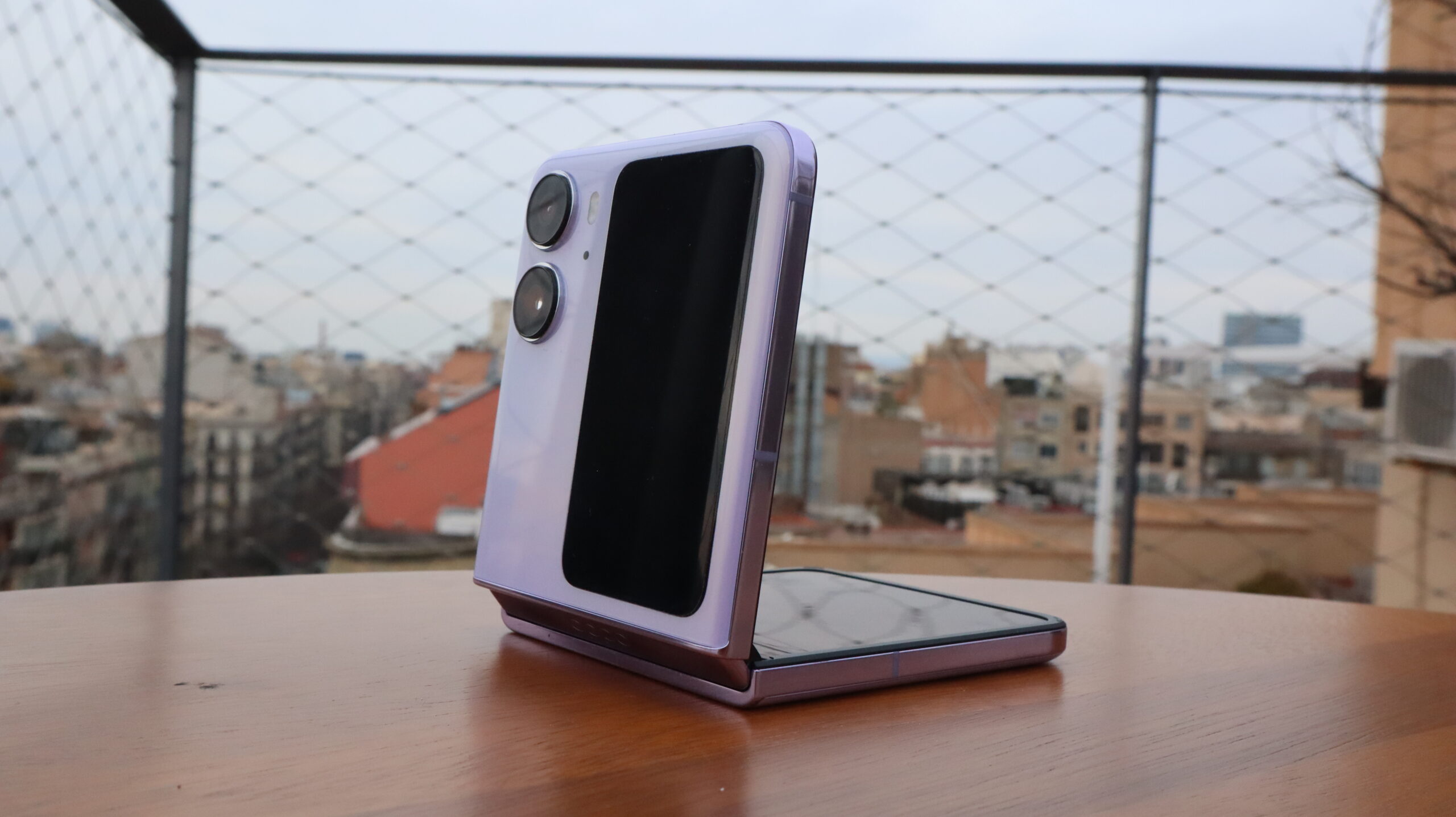 Design
We said it before and we'll say it again: The OPPO Find N2 Flip is a beautifully-crafted foldable with lots of thought put into its aesthetics. There's even an argument that it beats out the famed Samsung Galaxy Z Flip4.
The unit lent to us was the Purple one, which was done in a "pastel-like" shade that managed to retain its classy look. It doesn't lose any functionality while folded because the buttons are still accessible and easy to press for your needs. There is impressive symmetry in the design of the twin camera lenses. They're two identical circles that are larger in size. We're fans of more sizable camera modules as they give off the illusion of superior camera performance; which we'll get to later.
Beside that is an expansive 3.26-inch cover screen. It spans the entire top half of the foldable device's exterior from top to bottom.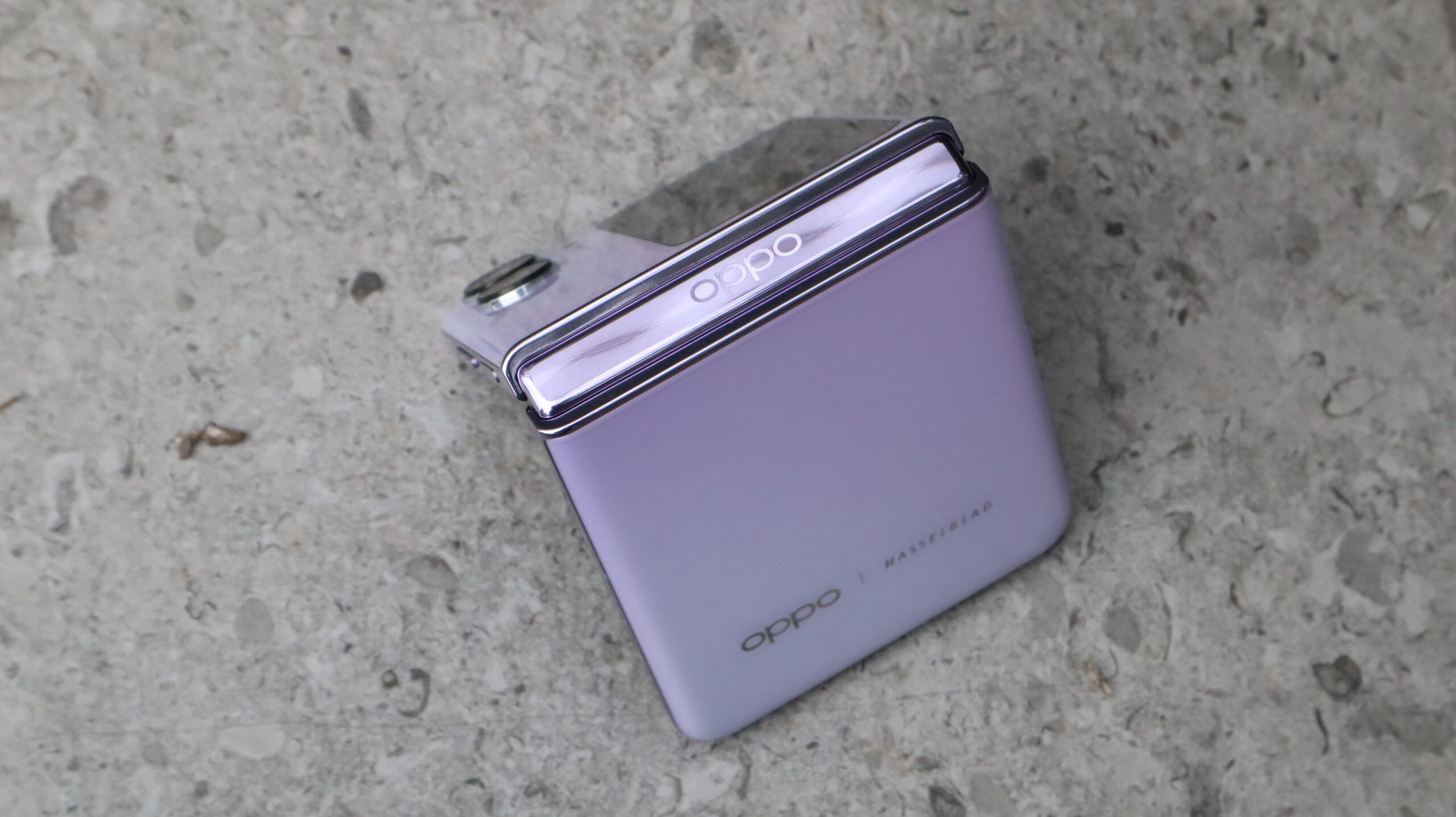 Under that is the hinge, which also features the same shade as the overall device but stands out with a shinier finish. Minimalistic OPPO text stands out at the center – and this falls down to the bottom half of the device as well. Of course, they're not forgetting to shove the fact that these optics are HASSELBLAD-tuned in your face.
Honestly, opening the device up is not a one-handed affair. This became especially apparent in Spain's freezing cold when we had to sacrifice both hands to the gods of frost just to unfold the phone.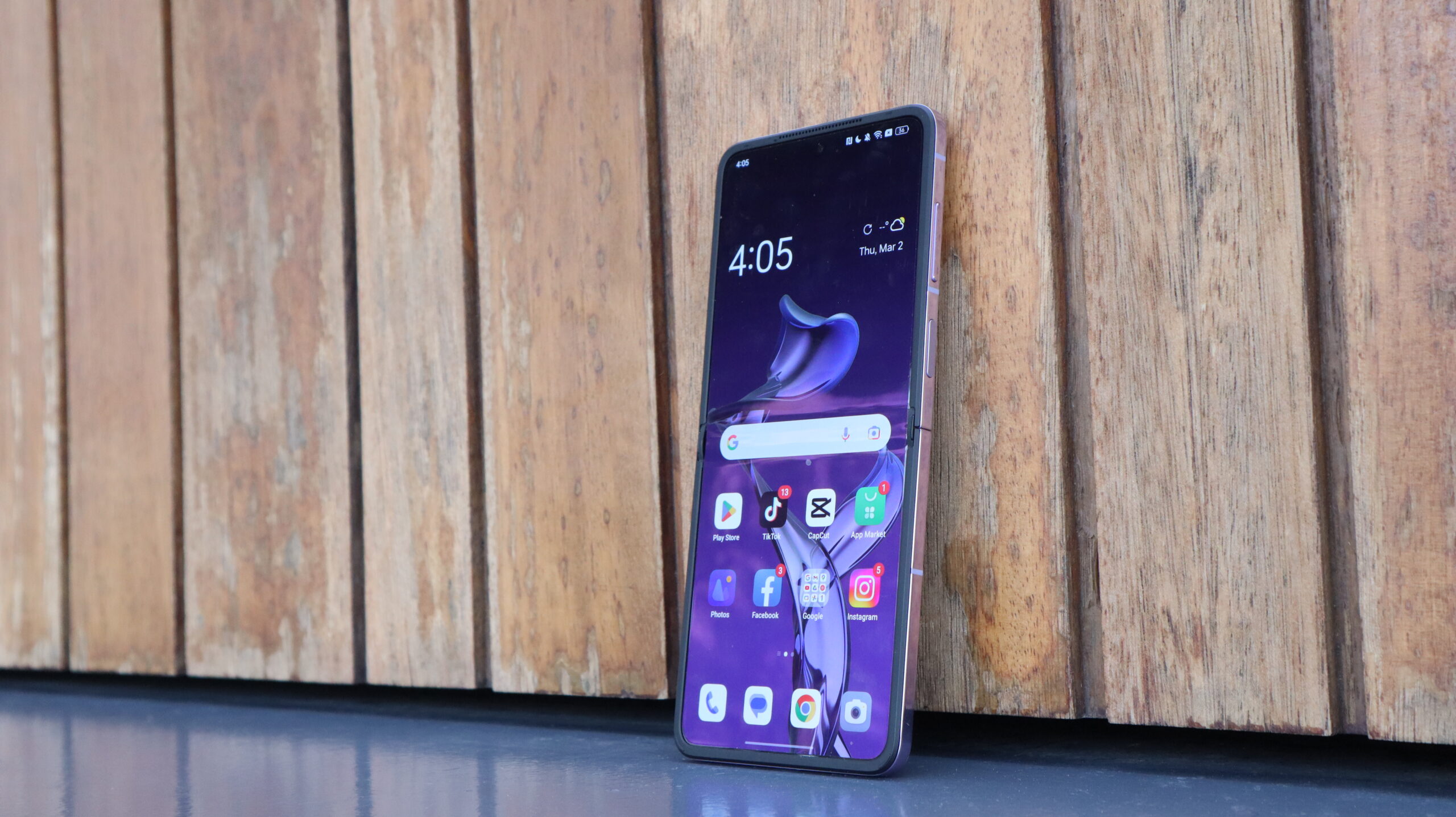 You're rewarded for your efforts though, as the inside 6.8-inch display barely has any bezels. It's boasting an 86.48% screen-to-body ratio and isn't shy about it in the slightest. The earpiece for calls as well as the selfie camera can be spotted up top, although they barely take up any real estate. The crease in the fold is only apparent if you really look for and right at it, but we can surmise that it'll just vanish in daily use.
One of our favorite characteristics of the OPPO Find N2 Flip in this review is the fact that you could just forget about its foldable functionality once opened. The "Flip" form factor usually ends up being too narrow and tall when unfolded. It can get a bit awkward sometimes. Meanwhile, this is a smartphone experience that still makes you feel like you're using a conventional flagship phone. That's the primary reason for us stating that there are essentially no compromises for this device, at least on this end.
Hand feel? Solid. It weighs about 191g according to the OPPO page, but that contributes to the premium experience.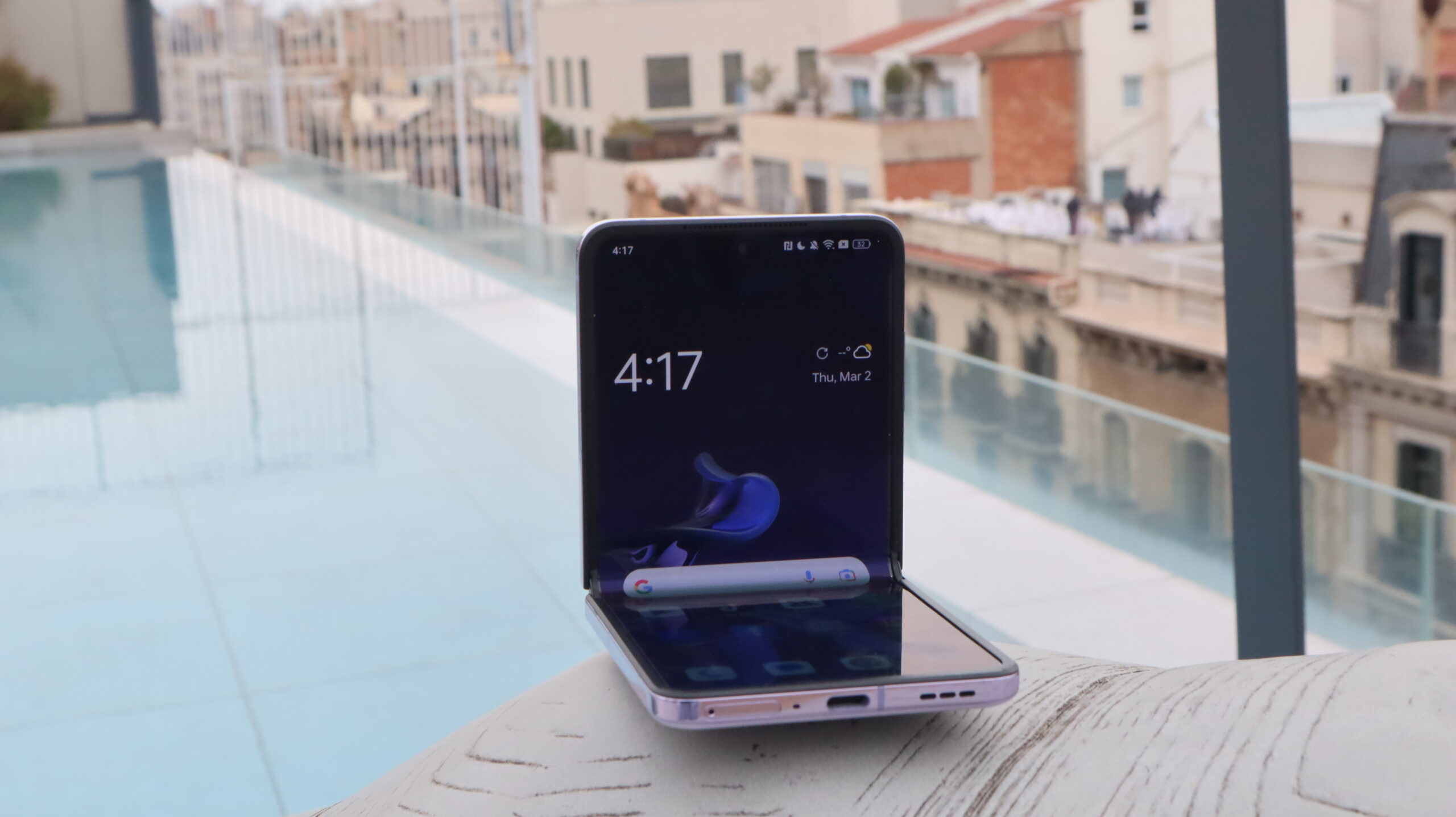 Display and Speakers
On the outside, the OPPO Find N2 Flip in this review carries the aforementioned 3.26-inch cover screen. This trumps the 1.9-inch cover screen found on its Samsung rival. Having a mammoth of a cover screen opens up multiple avenues for use. You can use this to take selfies with the stronger rear cameras, check your reminders, stopwatch functions, among other things. You can also set custom lock screen animations that still look supremely awesome on this display.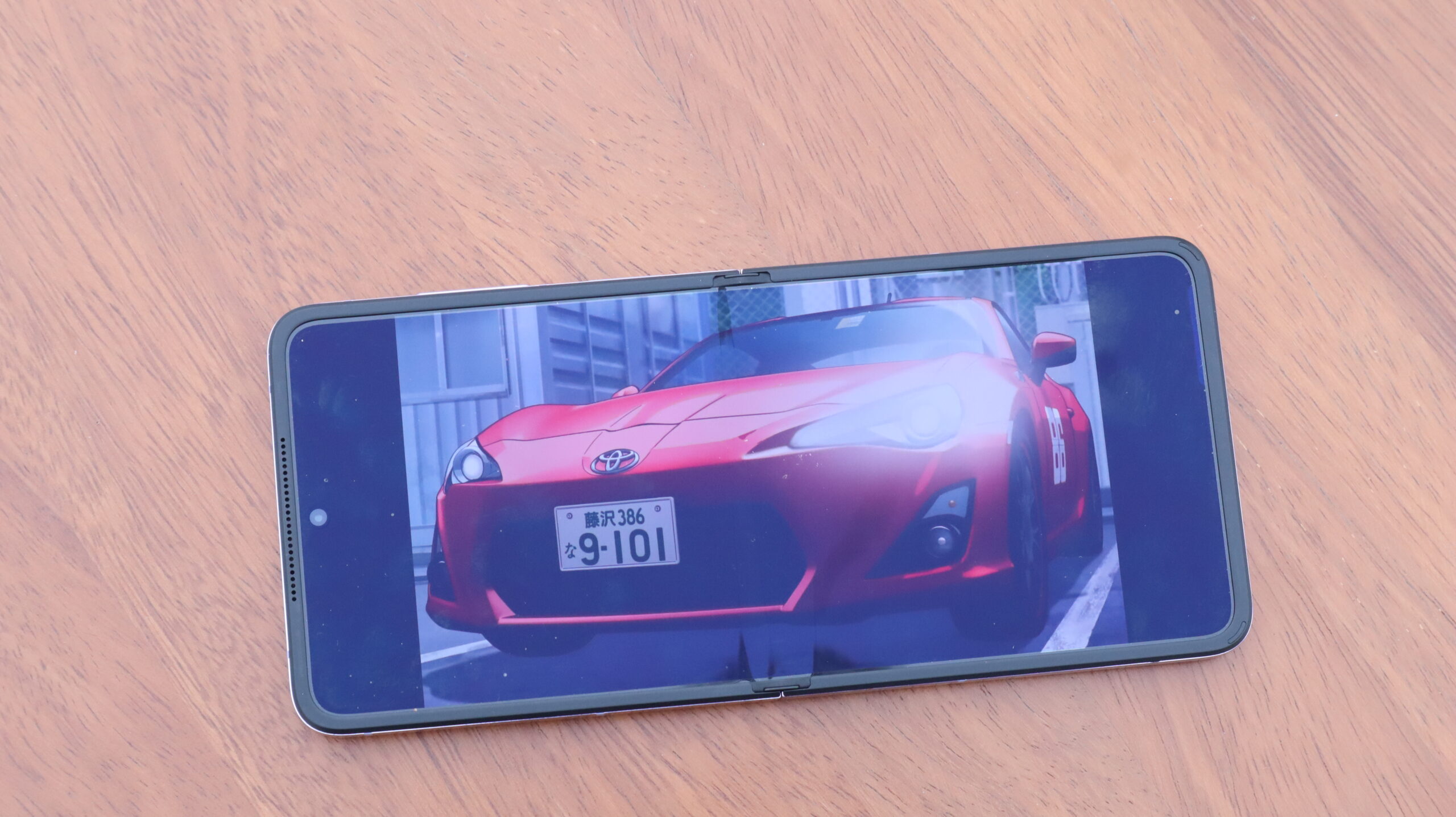 Open it up to find the 6.8-inch flexible AMOLED display with a resolution of Full HD+ and a 120Hz LTPO variable refresh rate. It's a top-notch panel that achieves 100% of the DCI-P3 color gamut and 97% NTSC coverage, with a maximum brightness of 1200 nits. It's definitely a treat to use and there's absolutely no awkwardness brought in by being a foldable here. At some points, we even forgot it was one to begin with. The image above was a sample of "dark" content in direct sunlight, and as seen in the photo, the images are still ultimately sharp and visible. The crease doesn't get in the way either.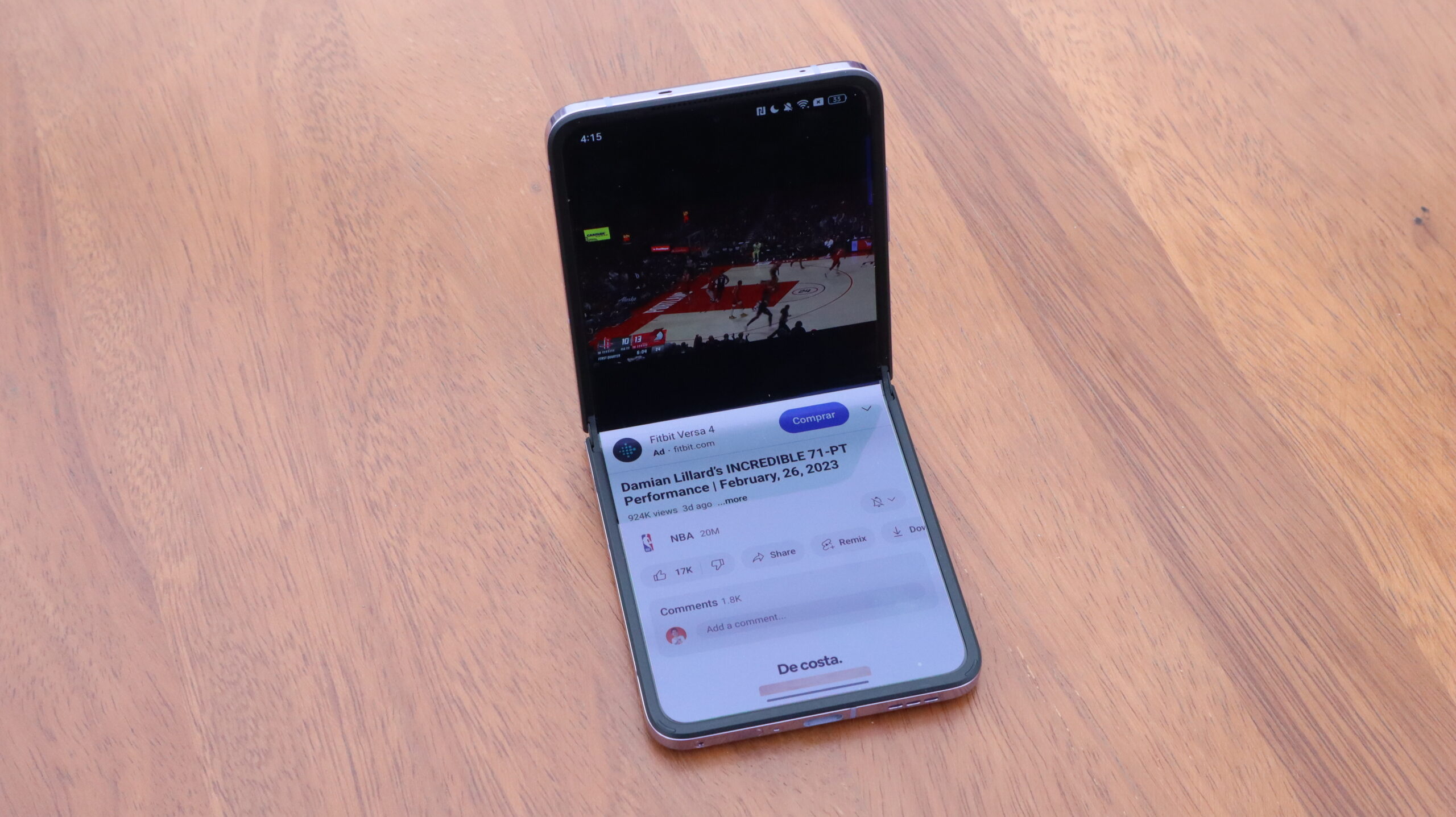 You'll only really remember it's a foldable when you… fold it. There are a lot of practical applications to this, such as using the bottom half as a stand to watch your content more comfortably, prop it up for video calls, or just overall multitasking duties. It's quite difficult to come back to a conventional smartphone after you've grown accustomed to the additional functionality that you get with this kind of device.
The speakers on the OPPO Find N2 Flip are par for the course when it comes to flagships. The top "call speaker" and bottom-firing audio source work together to deliver a stereo experience when watching videos, playing music, and consuming all kinds of content. We never felt it was tinny or bloated. While it's not the best in the market when it comes to this department, it's definitely more than good enough – and impressive for a foldable device with a minimal footprint.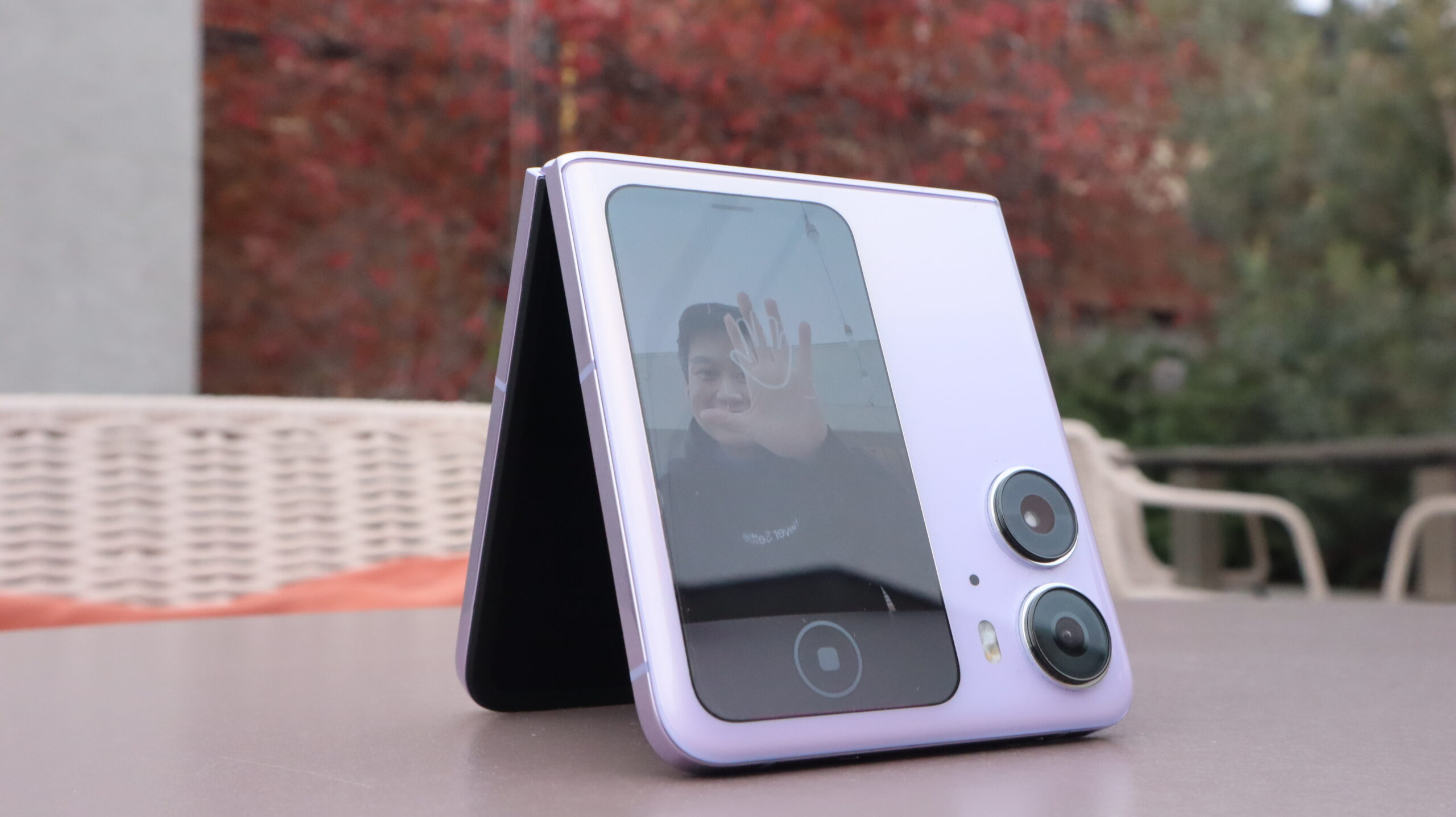 Cameras
Another compromise often met with these foldable devices comes in the camera department. In order to accommodate the folding mechanisms as well as other parts, there is no room to place a gargantuan camera module expected in modern-day flagships.
OPPO didn't want to throw all hopes of a high-end camera system away though. Its main rear sensor is a 50-megapixel Sony IMX890 shooter with pixel binning, resulting in 12.5-megapixel photos. This is supported by an 8-megapixel Sony IMX355 ultrawide sensor. There is no OIS to be found here, unlike the vanilla OPPO Find N2.
Anyway, there's also a Marisilicon X chip and Hasselblad tuning onboard, so expectations are sky-high.
How do photos look? Let's check out the photos taken by the main sensor. Keep in mind that these were performed in automatic, pick-up-and-shoot settings. In ideal situations, the OPPO's optics are impressive. Colors are accurate, details are maintained in each shot, and we have no complaints whatsoever. These are photos we wouldn't hesitate to use even for our website content, which is huge since we set a higher bar for that rather than if it were just for social media use.
Things get a bit spottier at night since you can easily see the camera pushing to get as much light as possible in the image. However, there isn't much noise and everything is still well-represented in the images shown above. You can take this device for a night out without worrying about your photos ending up as fuzzy as your memories of your eventful evening.
On the other hand, the 8-megapixel ultrawide lens is much more modest in its performance yet still delivers decent photos. The way colors are portrayed here differ versus the main sensor, sometimes opting for a more vivid representation of colors. There's also a bit more noise when the light source dies down, so keep this in mind. Regardless, these are still photos we could post anywhere without any complaints.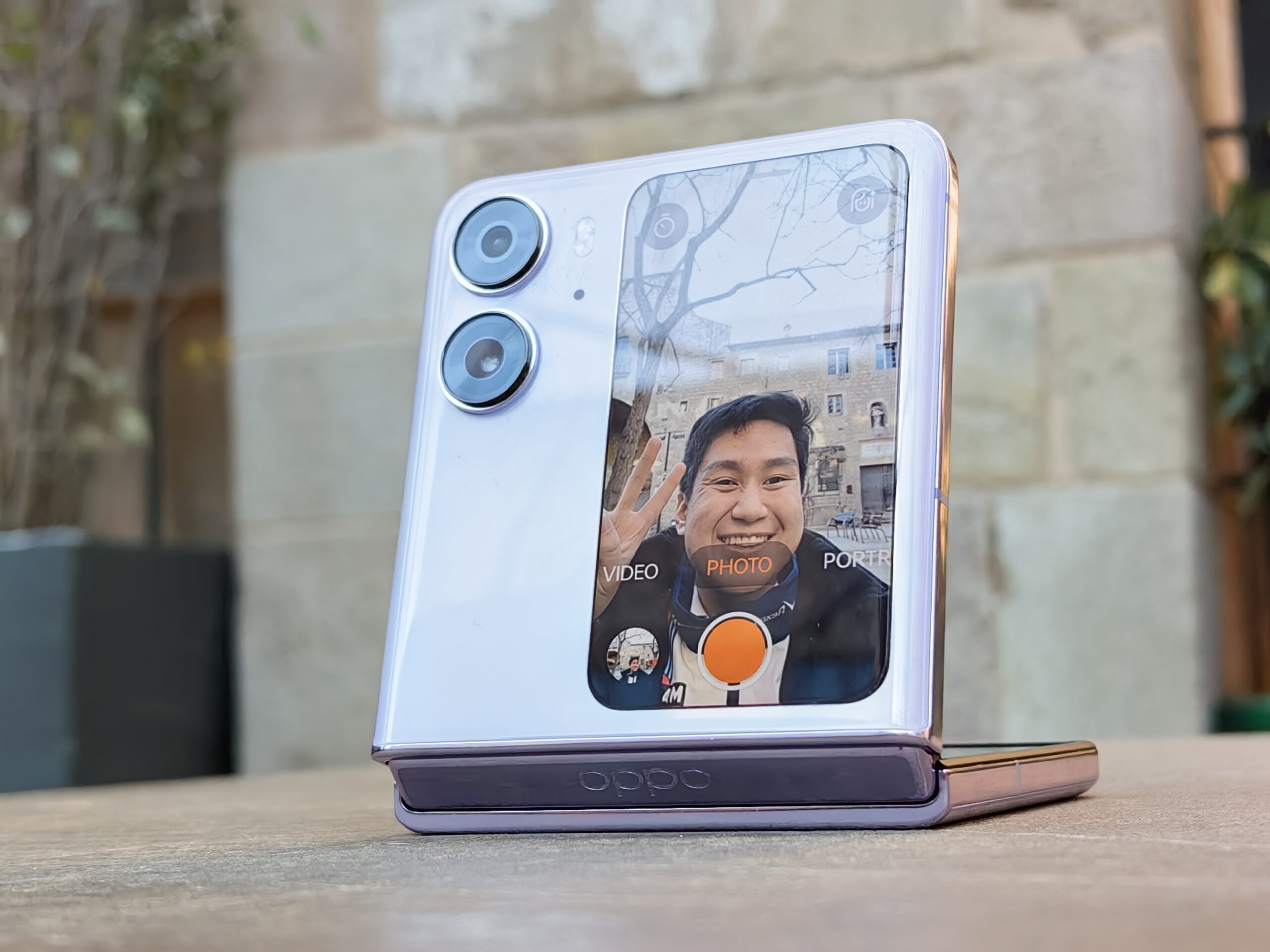 What's fun about the OPPO Find N2 Flip in this review is that the secondary display can be used to take selfies with the main camera, instead of the decent but expectedly inferior 32-megapixel front shooter. You can even advise the person taking a photo of you to change their angle or come closer/nearer since you can see a preview of the photo on the small screen. A shockingly useful feature!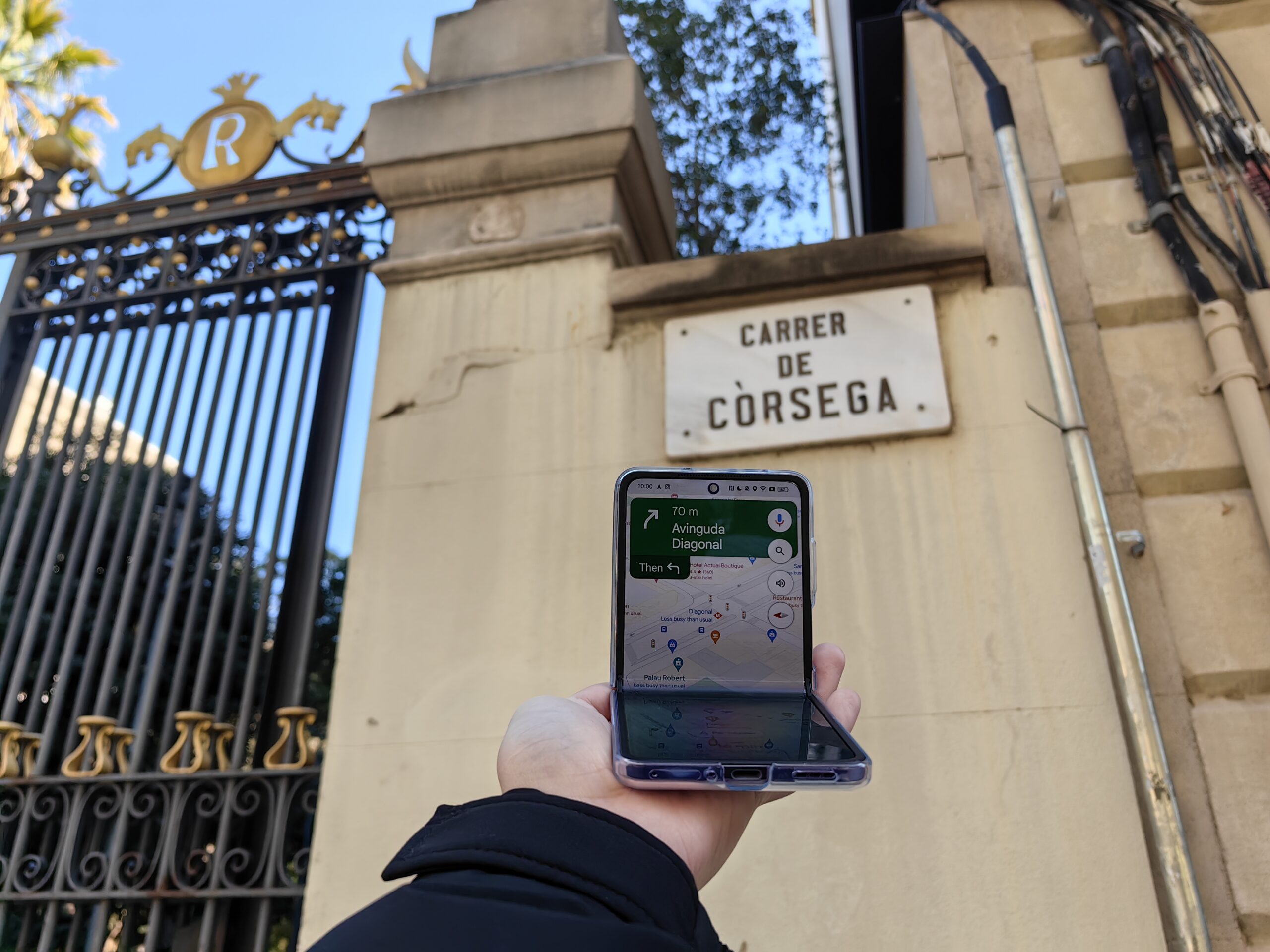 Internals and Battery Life
The beating heart of our review unit OPPO Find N2 Flip is the MediaTek Dimensity 9000+.  Some may comment that it's a previous-generation chipset on par with the Snapdragon 8+ Gen 1, but that doesn't mean it won't destroy everything in its way even in 2023. It's the same chipset in the monstrously-powerful ASUS ROG 6D Ultimate – if that's a piece of reassurance.
We did all sorts of things on the foldable, but nothing even came close to slowing this thing down. 8GB of LPDDR5 RAM proved to be more than enough for multitasking even by 2023 standards. On top of that, ColorOS13 is significantly maturing and losing the bloat, in exchange for smoothness and features we can actually see ourselves using.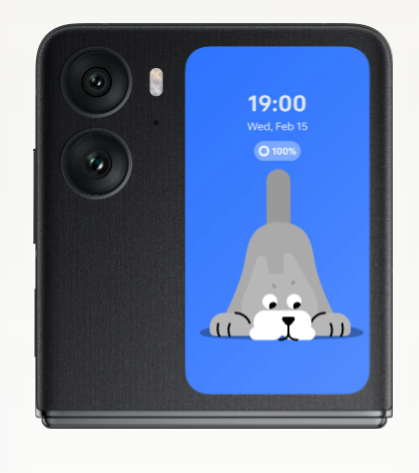 Come on, who wouldn't want a virtual pet on their lock screen?
For the numbers and benchmarking junkies, here's a comparison with the Galaxy Z Flip4 you all adore. All the numbers for the Samsung foldable came from the official sites for each of these benchmarks.
The numbers aren't very far-off, fully displaying the strengths of these flagship specifications as well as the compromises made to achieve this form factor. We never really experienced the device getting very hot, but prolonged gaming sessions on high settings can push these devices to scalding temperatures.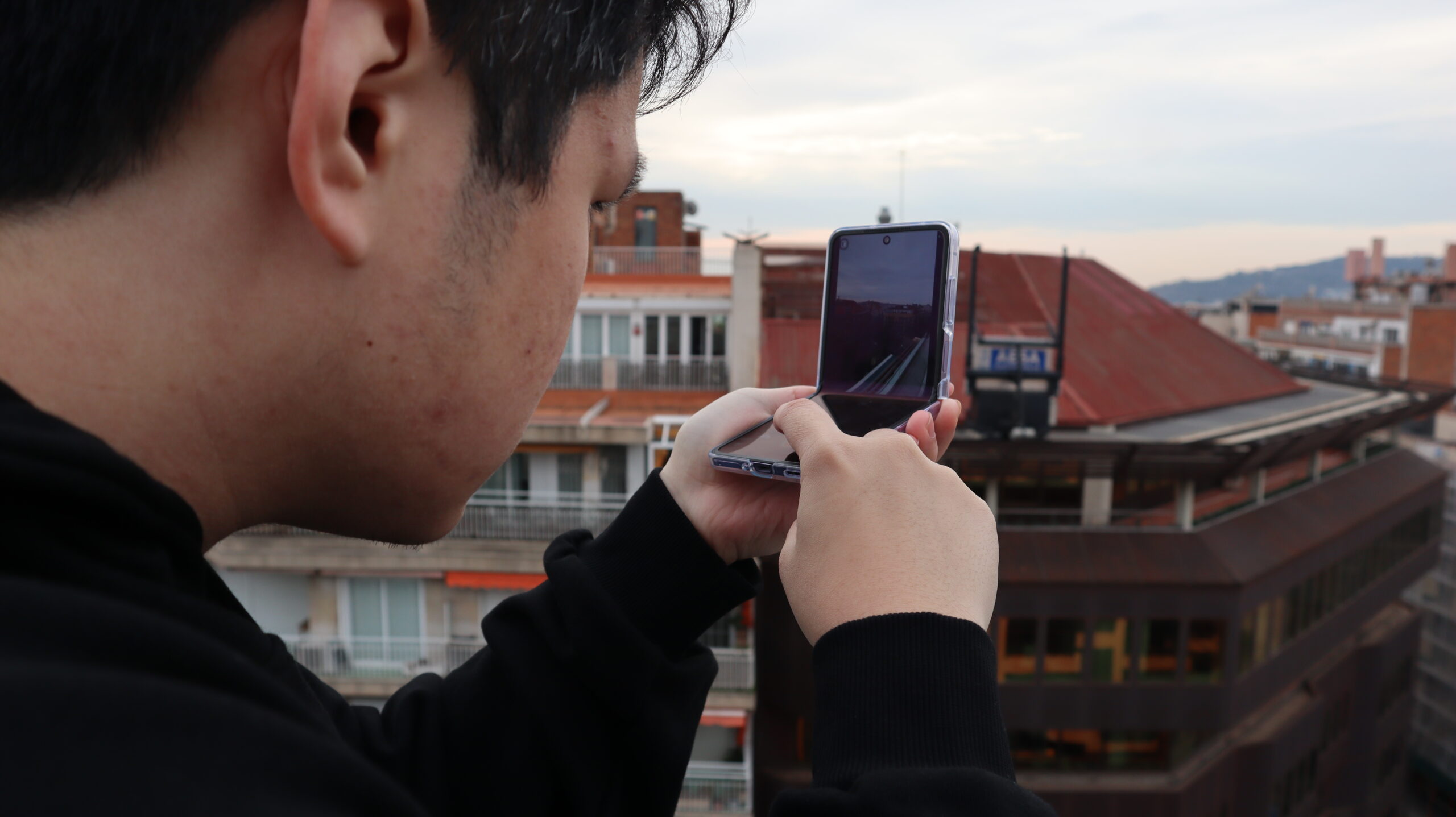 We used the phone for navigation on Google Maps around Barcelona, as well as for taking photos and videos. The battery lasted comfortably until the end of the day with power to spare.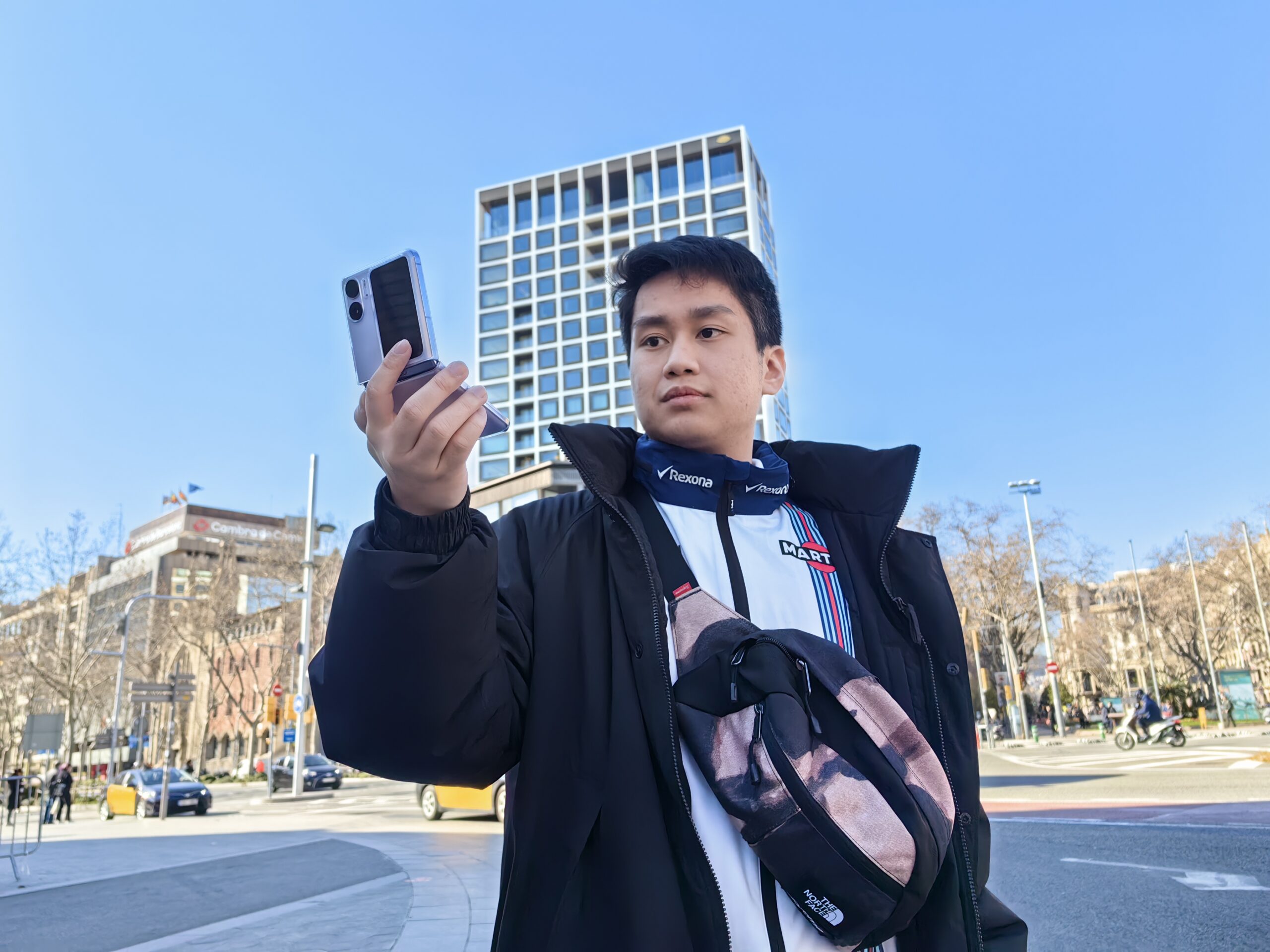 Wrap-Up and Conclusions
Overall, we'd consider the OPPO Find N2 Flip a game-changer in this review. It essentially presents to you as many of the perks of having a foldable while minimizing the compromises you experience. We love how its processor has lots to give, the design is superb, and the software's so well thought out that nothing here feels like an afterthought.
Obviously, there are still some points for improvement. We're still starting to see third-party support for the device's outer screen as well as other software improvements. However, these are bound to come with time.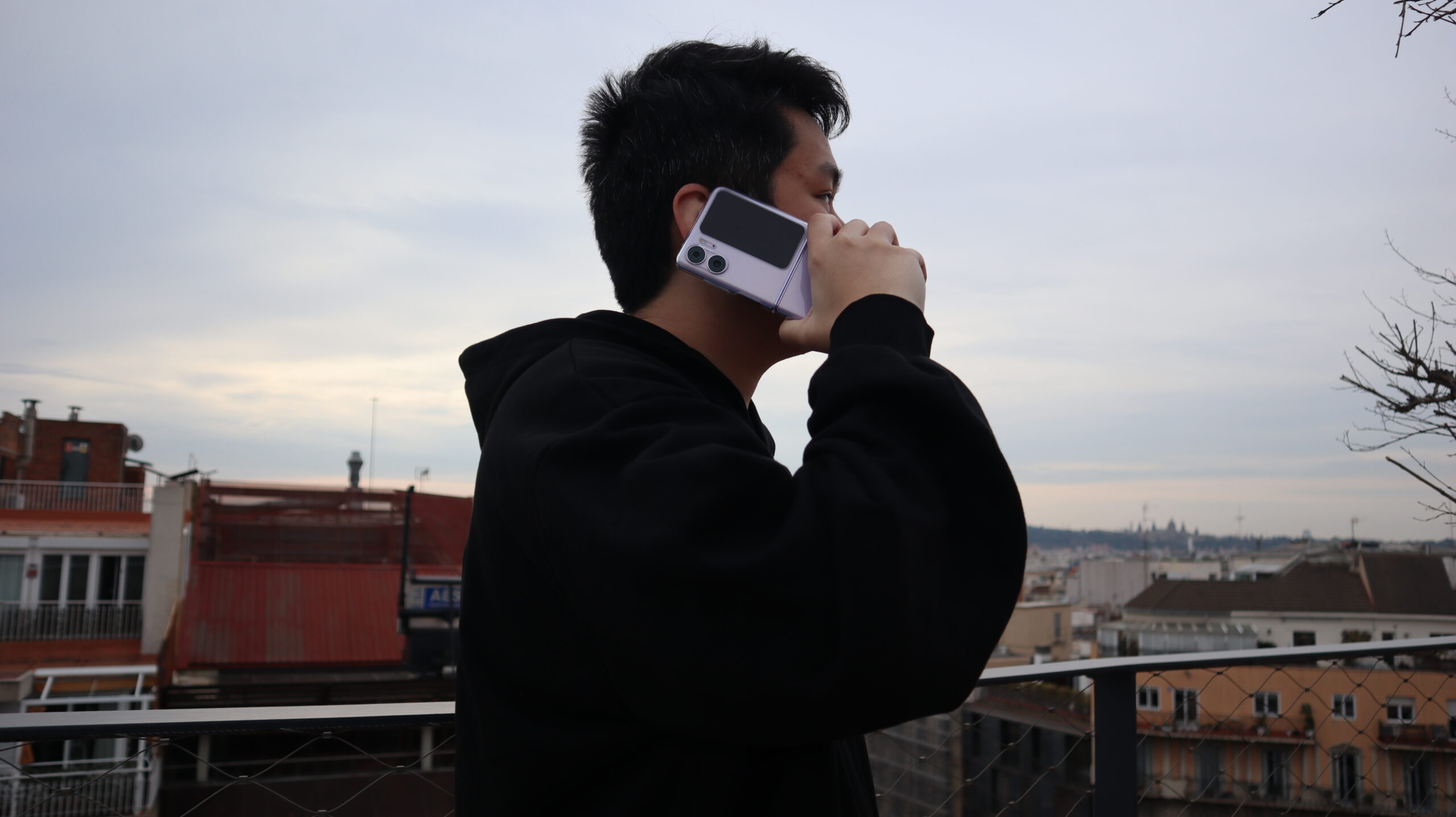 This is a fantastic first attempt at a flip-style foldable for the company and we'd easily fork over the money to make the purchase.
OPPO Find N2 Flip Philippines Price
The Find N2 Flip is priced at Php 49,999 and will be available exclusively in Lazada. It will be available for pre-order until April 8. Pre-orders will get the Enco Air3 and Watch Free with their purchase.